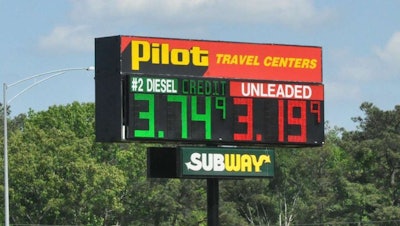 The total amount Pilot will dole out in its class-action settlement with trucking companies who sued the company over an alleged fuel rebate withholding scheme is $72 million, according to a petition Pilot submitted this week to the Arkansas court that settled the case in July.
Of the total, $55 million is designated as the principle amount owed — what the truck stop chain had allegedly defrauded customers out of — $4.1 million will be paid to class members as part of the 6 percent interest owed on the principle, $3.5 million will go to the cost of the internal auditing and another $14 million is designated for attorneys' fees, though that amount could be smaller, the court documents say.
The petition also says 59 members of the class, presumably trucking companies, have opted out of the settlement, either to pursue other legal action or for other reasons.
Pilot began being flooded with lawsuits after federal agents raided the company's Knoxville headquarters in April, then released unsealed an affidavit later in the week detailing allegations against the company that it had intentionally and systematically defrauded trucking company customers out of millions of dollars in fuel rebates over a roughly 7-year period.
Pilot CEO Jimmy Haslam has maintained he had no knowledge of the scheme, which the affidavit says was allegedly done to boost Pilot profit and commissions of its sales staff.
Haslam unveiled in May a five-point plan to pay back money owed to its customers and ensure the company does not withhold fuel rebates in the future, including ending the manual rebate calculations, which apparently was the source of the fraud.
Several Pilot employees also have pleaded guilty to various fraud charges since April.
Click here to see all of CCJ's coverage of the Pilot allegations.