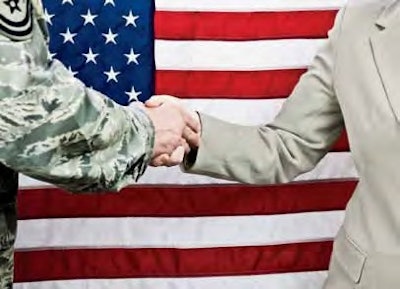 The Federal Motor Carrier Safety Administration in light of an in-house study says it wants to implement some regulation changes to help former military personnel U.S. veterans more easily transition to civilian truck driving jobs. The agency says it plans to implement the changes "as soon as possible."
The changes include:
*Allowing active duty and recently separated veterans to have up to one year — as opposed to the current 90 days — to take advantage of the Military Skills Test Waiver, which allows states to waive CDL skills tests for service members with two years of safe driving experience with similar vehicles. Right now, 46 states offer the waiver, and almost 2,000 veterans have been able to use the waiver.
*Allowing active-duty military personnel with training and employment in heavy vehicle operation to immediately qualify for a CDL. The 60,000 service members that currently qualify operate vehicles that are nearly identical to civilian trucks, FMCSA says.
*Allowing service members stationed in one state but licensed in another to obtain a CDL before being discharged.
FMCSA's study was required by the MAP-21 highway funding law that went into effect last summer. The agency said it analyzed training, testing and licensing similarities between military and civilian CDL requirements.
"Our military men and women make tremendous sacrifices in service to our nation, and helping veterans transition to the civilian workforce when they come home is just one way to show our gratitude," said U.S. Transportation Secretary Anthony Foxx. "Today's report builds on the work FMCSA has already accomplished on behalf of our veterans and outlines opportunities to help even more qualify for jobs based on the skills and training they receive in the armed forces."
Click here to see a copy of the study.