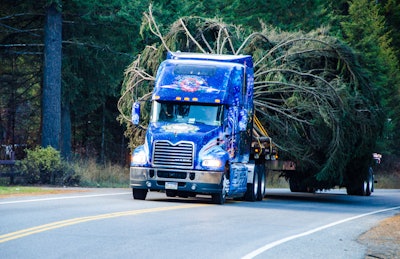 An 88-foot, 80-year-old Engelmann Spruce that will in just a few weeks become the official 2013 Capitol Christmas tree began a cross-country journey Nov. 7 from Washington state being pulled by a specially decaled 2014 Mack Pinnacle (pictured above).
The tree was harvested from the Colville National Forest near Usk, Wash. About 300 people joined the U.S. Forest Service and authorities Nov. 1 to celebrate and watch the tree's harvesting.
The tree will after 24 stops around the country reach its destination at the west lawn of the U.S. Capitol, where it will be decorated in early December with about 5,000 handmade ornaments.
The Mack Pinnacle hauling the tree is equipped with Mack's mDrive automated manual transmission and the Mack Twin Y air suspension system. The truck's decals feature a resolute bulldog pulling a Christmas tree in the snow toward D.C.
"Hauling an almost 90-foot symbol of this magnitude is a special job," said Mack's VP of Marketing, John Walsh. "We're proud to provide a product to do it that's not only durable, reliable and efficient but also distinctly American."