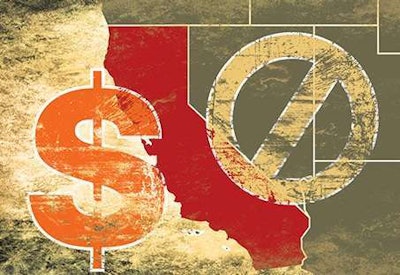 Fleets who only occasionally in California may be able to benefit from a California Air Resources Board rule change for 2014, as the state is reportedly upping its low-use mileage exemption from 1,000 miles to somewhere in the neighborhood of 5,000 to 7,500 miles.
The news came Nov. 7 at the National Association of Small Trucking Companies' annual convention in Nashville, Tenn., where Sean Edgar of CleanFleets and Joe Rajkovacz of the California Construction Trucking Association said the low-use exemption of the state's Truck & Bus Rule will be boosted and will be available through 2020.
Moreover, the two reported the "Good Faith Effort" rule will let truck owners have six months in 2014 to replace or retrofit their trucks to meet CARB standards or to apply for loans and grants to enable them to do so.
To take advantage of the low-use exemption, Edgar told the audience they'd need to report the vehicle, engine and owner information to CARB for registration. Moreover, after final guidance is published conceivably in the next few days, deadlines could be within 60-90 days thereafter.
Owner-operators who are leased to large fleets can also take advantage of the exemption.