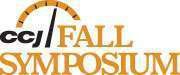 A two-person panel consisting of Jack Van Steenburg — Chief Safety Officer and Assistant Administrator at the Federal Motor Carrier Safety Administration — and Tom Kretsinger, president and chief operating officer of American Central Transport and chairman of the Truckload Carriers Association, will talk trucking regulations in a session titled "Navigating the Rough Waters of Today's Regulatory Environment" at the CCJ Fall Symposium in early December.
The Click here to register for the CCJ Fall Symposium.">Symposium will be held Dec. 2-4 at the Montelucia Resort and Spa in Scottsdale, Ariz.
In their panel discussion, Steenburg and Kretsinger will discuss FMCSA's agenda for the upcoming year, the status of pending regulations and what fleet executives need to know to prepare their businesses in the ever-changing regulatory environment.
The Symposium also includes sessions on driver recruiting and retention, handling "Obamacare," modernizing your fleet, understanding CSA and an economic outlook.
Laura Ingraham, one of the most famous political talk radio hosts and a Fox News contributor, will give a keynote.
The Symposium registration rate, $395, covers all sessions, hotel accommodations, meals and golf and spa activities. Click here to register or to learn more.