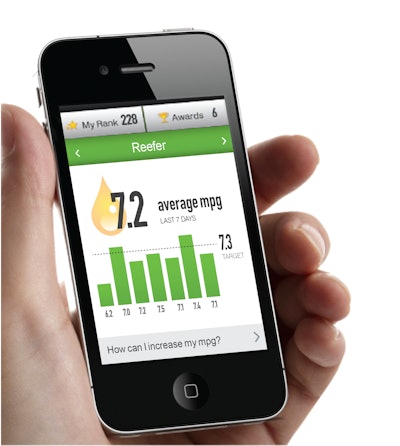 SmartDrive Systems has a new Fuel Economy mobile app that falls within its product strategy for targeting root-cause behaviors that impact driver performance. The app runs on drivers' Apple or Android phones and tablets and is designed to engage drivers with a workflow that compares their performance with peers.
SmartDrive has offered a driver performance system for eight years. Its in-cab device uses a camera to capture risky events such as hard braking, swerving, and collisions. The video and vehicle data is sent to a server through cellular or Wi-Fi communications. Fleet managers can then review events and manage risk using an online portal with various reports and dashboards.
With the mobile app, drivers see key metrics and trends for MPG along with the ability to drill down into the specific areas and maneuvers that negatively impacted their MPG.
A performance-based workflow begins with a dashboard that shows drivers their weekly MPG performance. Next, they can touch a button to see how they can improve MPG. The app shows details for what lowered their score, such as a hard acceleration(s), over idling, speeding and over-revving the engine. Drivers can drill down to see where on the map each event occurred.
As their driving improves relative to their peers, they receive digital trophies, badges and rewards. Fleets can customize the rewards to their own incentive programs.
SmartDrive has incorporated educational materials into the app as well. Drivers can watch short videos and view driving tips on how to improve their performance.
Click below to see how these carriers are using next-gen driver performance systems
Covenant Transport (Chattanooga, Tenn.): FuelOpps
Transport Distribution Company (Joplin, Mo.): PedalCoach
Terpening Trucking (Syracuse, N.Y.): Vnomics In-Cab Advisor
Load One (Taylor, Mich.): Stay Metrics Drive for Gold