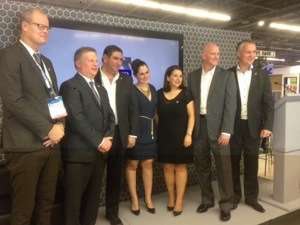 Volvo Trucks North America introduced the I-Shift automated manual transmission to the Mexican truck market at the Expo Transporte 2013 in Guadalajara, Mexico. The I-Shift, which has been available in the United States and Canada since 2007 and standard on Volvo trucks as of this year, has been tested by a handful of Mexican fleets in the second half of 2013.
Transportes Monroy Schiavon, the 16th largest carrier in Mexico with 553 power units, has taken delivery of 25 I-Shift-equipped Volvo VNL tractors, and will add 75 more units by year-end. To date, Volvo has delivered 170 Volvo VNL tractors to Mexico with I-Shift transmissions.
"Volvo has gained strength in North America, and the Mexican market is critical for our success in North America," said Göran Nyberg, president, VTNA sales and marketing. "I believe the announcement of the I-Shift availability in Mexico will further enhance value of ownership for Volvo customers in Mexico."
Volvo Trucks has grown its Class 8 tractor market share from 6 percent in 2011 to 9.7 percent through October 2013 (1,289 tractors delivered year-to-date) as it continues its quest for 15 percent market share in the region by 2015. The company expects to finish the year at 11 percent market share.
Mack rolls out "Vision" for Mexico
At the same press event, Mack Trucks introduced the Mack Vision Class 8 on-highway truck for the Mexican market. The Vision is essentially the Mack Pinnacle offered in the United States, with an MP8 engine that meets 2004 emission standards.
"We have a firm commitment to success in this market," said John Walsh, vice president of marketing for Mack Trucks. "We believe we are well-positioned for success moving forward and are confident that the products will be extremely well-received by customers here."
The company also announced the availability of Mack Financial Services for its Mexican customers. Volvo Truck Finances currently has 60 percent market share of financing for Volvo Trucks sales in Mexico, and company officials said with more Mack product offerings in the region, the creation of Mack Financial Services was a need it had to fulfill for its customers.