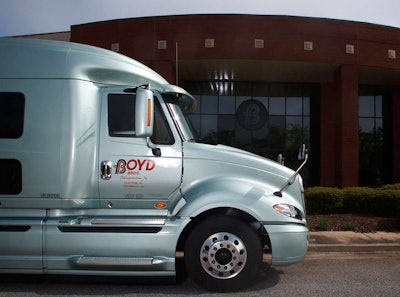 Specialty fleet Boyd Bros. Transportation (No. 97 in the CCJ Top 250) out of Clayton, Ala., and Daseke Inc., a specialty carrier out of Addison, Texas, announced Nov. 14 the two are merging.
The merger, says Don Daseke, president and CEO of Daseke, will form one of the top five open-deck/specialty carriers in the country, both in terms of number of power units and revenue. The new company will have more than 2,000 tractors and 3,600 trailers, Daseke says.
Also included in the merger are some Boyd subsidiaries — WTI Transport in Tuscaloosa, Ala.,Mid Seven Transportation in Des Moines, Iowa, and Boyd Intermodal and Boyd Logistics — and Daseke companies Smokey Point Distributing, E.W. Wylie, J. Grady Randolph and Central Oregon Truck Company.
Boyd CEO Gail Cooper says both the companies will remain intact and will not have any personnel changes resulting from the merger.
Boyd Bros. and its companies run the eastern two-thirds of the country and have service into Mexico with their trailers. The added financial backing from Daseke, says Boyd President Richard Bailey, will accelerate Boyd Bros.' post-recession growth. "This merger really creates a powerhouse in open-deck, specialty carriage," he said.
The carriers don't have much customer or lane overlap, says Scott Wheeler, senior VP and corporate CFO for Daseke. "We will be able to offer greater capacity, diversity of equipment, reliability and geography to shippers. What's more, coupling Daseke's existing logistics services with Boyd Logistics will give us greater opportunities to keep those shipments in-house, increasing our margins with no increase in cost to our customers."
Boyd Bros. was the winner of CCJ's annual Innovator of the Year competition, announced in April, for its Raildeck, a revolutionary flatbed-intermodal trailer. Click here to read about it and Boyd Bros. development of it.