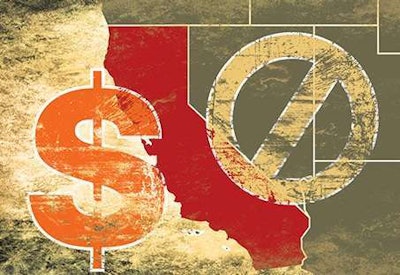 The California Air Resources Board is delaying the particulate matter filter retrofit enforcement deadline to July 1 for truck owners who report by Jan. 31 they made a efforts toward trying to comply with the retrofit law.
CARB released Nov. 13 an advisory that said it would recognize truck owners' "good faith" actions toward compliance by Jan. 1, the deadline for retrofitting a particulate matter filter. The state says it will delay enforcement through July 1 for those who've mad efforts and then reported the efforts by Jan. 31 to CARB's Truck Regulations Upload and Compliance Reporting System.
CARB already announced this month it would be increasing its low-use mileage exemption from 1,000 miles a year to somewhere between 5,000 and 7,500 miles.
To qualify for the particulate matter filter enforcement delay, owners of any sized fleet must show they took one of the following steps:
*Have an agreement with an authorized installer of a particulate matter filter retrofit
*Signed a purchase contract and ordered a replacement truck equipped with a PM filter (2007 model year engine or newer)
*Were approved or denied financing for a retrofit filter or for a replacement truck equipped with a filter
CARB says it will also recognize "good faith" efforts of truck owners of small fleets — one to three trucks — who meet all requirements of the Proposition 1B Goods Movement Emissions Reduction Program. Click here to see more information in the advisory.
CARB sued over alleged DPF non-disclosure
The newly formed Alliance for California Business has filed a lawsuit against CARB for allegedly not disclosing known defects associated with Diesel Particulate Filters, which are required for all trucks starting in 2014.
The complaint was filed in Glenn County and says that the mandated DPFs can cost up to $20,000 per truck.
Moreover, it says DPFs have caused fires and are "not designed for use on short distance travel routes and commonly malfunction as a result," the suit says.
Truck owners can qualify for help with purchasing them, but no help is provided if damage is caused by the filters or if income is lost while the truck undergoes repair, the lawsuit says.
A case management conference is set for May 9.