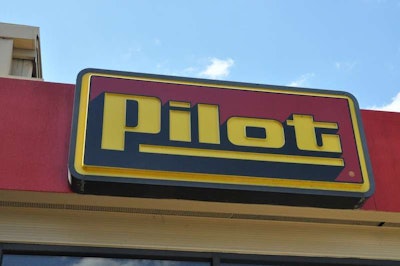 A judge has given final approval to Pilot Flying J's class-action settlement agreement with trucking companies who sued the fuel provider and truck stop chain over alleged rebate withholding fraud. Pilot will be paying out about $72 million to roughly 5,500 class members — all of them trucking companies.
Judge James Moody in a U.S. District Court in Little Rock, Ark., granted final approval for the settlement at a hearing Monday, Nov. 25.
Per the terms of the settlement, Pilot will be paying 100 percent of discounts gone unpaid, along with 6 percent interest. The company will also be paying class members costs of internal audits and court fees and expenses.
In a document filed last week asking the court for final approval, Pilot says no written objections to the settlement were filed. As of Friday, Nov. 22, 146 members had opted out of the settlement, either to file a separate lawsuit or pursue other action. However, when treating affiliated companies as single entities, Pilot says, the number of opt-outs is 60.
According to a court petition filed by Pilot earlier this month, the settlement runs about $72 million, awarding $55 million in owed fuel rebates, $4.1 million in interest, $3.5 million for auditing costs and up to $14 million in attorney's fees.
Pilot reached the settlement in the Arkansas court in July. The company's Knoxville headquarters were raided in April by federal agents, and an affidavit unsealed the same week showed the company was being investigated for fraud allegations stemming from withholding millions of dollars in fuel rebates from trucking company customers who had contracts with the company regarding diesel sales.
Several Pilot employees have since pleaded guilty to fraud allegations.
CEO Jimmy Haslam says he was not aware the scheme occurred and has taken steps to prevent the alleged fraud from occurring again.
Click here to see all of CCJ's coverage of the Pilot allegations, lawsuits and settlement.