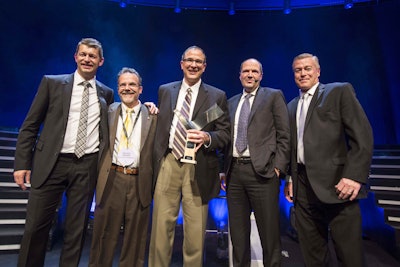 The Mack Twin Y Air Suspension won the 2013 Swedish Steel Prize, an annual award recognizing the world's most innovative design utilizing high-strength steel.
The award was given by SSAB, the global expert in high-strength steel, during an event Nov. 21 in Stockholm, Sweden. Mack Trucks was one of four finalists for the award.
"Mack Trucks demonstrates how innovative and skilled development can help us to take advantage of high-strength steel to make stronger, lighter, and more sustainable products, which is one aspect of what the prize is intended for," said Melker Jernberg, chairman of the Swedish Steel Prize jury and head of the EMEA business area within SSAB.
The Mack Twin Y air suspension is the trucking industry's first suspension to utilize high-strength steel in a unique Y-shaped design. The strong, yet lightweight design greatly reduces suspension windup and significantly improves tire traction and braking control.
"It's an honor for Mack Trucks and the Mack Twin Y Air Suspension to be recognized for innovation in a global competition," said John Walsh, Mack vice president of marketing. "As a trucking industry leader, it's gratifying for Mack to continue to move the industry forward, being always mindful of delivering unmatched performance, fuel efficiency and comfort for Mack customers."
Mack will donate the 10,000 euros ($13,400) SSAB awarded to Mack for winning the Swedish Steel Prize to the Wounded Warrior Project, a non-profit that empowers wounded service members in the United States, raising public awareness and providing unique, direct programs to meet the needs of injured servicemen and women. As an American manufacturer and brand, Mack Trucks has long been a supporter of the U.S. military dating back to World War I when Mack first became a supplier to the U.S. and other Allied forces.
"When we introduced the Twin Y suspension, we knew that it would be of great value to our customers and could change how the trucking industry designs suspensions, but didn't anticipate recognition on this scale," Walsh said.
The Twin Y Air Suspension was introduced in January 2013. It utilizes two stamped high-strength steel Y-shaped blades at each wheel end. Along with improved tire traction and braking control, the suspension also offers a more stable ride, better handling and gains in fuel efficiency. Because of the greater flexibility of the steel and the reduced torque reactivity and lighter weight design of the Twin Y, truck components last longer and tire life is extended.
Available on the Mack Pinnacle Axle Back and Axle Forward models, the Twin Y is paired with the MACK S38 and S40 series axles and C125/126 and C150/151 carriers ensuring that all components are designed to seamlessly work together. The load of the suspension is completely on the air ride and not on the pivot bushing, which is another design feature that makes the Twin Y a smoother, more comfortable alternative to traditional suspensions.
"At Mack, we pride ourselves on building innovation into each of our trucks that enhances the experience of our customers," said Greg Kiselis, Mack Trucks principal engineer. "To be recognized by SSAB as a world leader in the use of a material like high-strength steel, helps us know that we are driving product development in the right direction for the trucking industry."