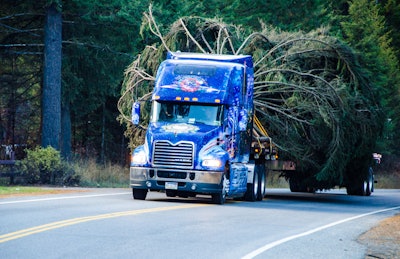 Country music group Diamond Rio headlined the 2013 Capitol Christmas tree stopover in Nashville, Tenn. during a recent community whistle stop at the CoolSprings Galleria Mall. Diamond Rio performed outdoors while the community viewed the 88-foot Engelmann Spruce hauled by a 2014 MACK® Pinnacle™ model and signed the side of the trailer.
The group has been a long-time friend of Mack Trucks, often performing for customer or dealer events. Vocalist Lindsay Lawler also attended the event and sang "Standing Tall." The tour is being organized by Choose Outdoors and the U.S. Forest Service.
Mack Trucks is a major sponsor of the 2013 Capitol Christmas Tree tour, providing two MACK Pinnacle Axle Back model trucks, both of which are equipped with the MACK mDRIVE automated manual transmission and Twin Y air suspension. Mack says both trucks deliver optimal fuel efficiency and produce near-zero emissions. These features make the trucks easy to drive, which is especially important when hauling an extra-long trailer through grade changes, small towns and congested highways. The combined length of the truck hauling the tree and custom trailer is 103 feet.
"It's Mack's privilege to help add excitement to tour stops whenever we can, and we're truly appreciative that Diamond Rio performed at the Nashville celebration," said John Walsh, Mack vice president of marketing. "The tour offers a fun way to educate the public about the importance of our national forests, while also allowing them to experience our Mack highway model up close."
The 2013 Capitol Christmas Tree comes from the Colville National Forest near Usk, Wash. and began its cross-country trek on Nov. 1 when the 80-year-old tree was harvested. The tree is making community stops in cities across the U.S. as it makes the over 5,000-mile journey to Washington, D.C.
Once installed on the west lawn of the U.S. Capitol, the tree will be decorated with thousands of handmade ornaments from the people of Washington State and will be lit in an official ceremony, led by Speaker of the House John Boehner (R-Ohio) in early December. Following the lighting ceremony, the tree will be lit each night until 11 pm throughout the holiday season.