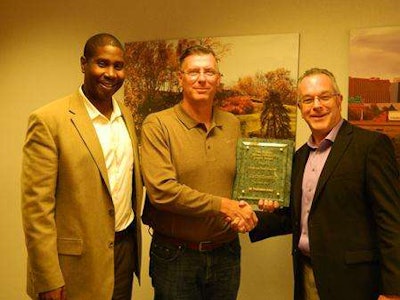 Innovative, sustainable solutions are enabling TransAm Trucking Inc. to generate double digit fuel savings, help ensure regulatory compliance and reduce over-the-road costs.
A leader in the refrigerated transport industry, TransAm Trucking operates a fleet of over 1,400 tractors and more than 2,400 trailers out of its headquarters in Olathe, Kan.
TransAm Trucking Implements Innovative Solutions that Increase Sustainability, Reduce Fuel Costs and Help Ensure Compliance.
Thermo King, a manufacturer of temperature control systems for a variety of mobile applications and a brand of Ingersoll Rand, presented TransAm Trucking with the "Energy Efficiency Leader Award" in recognition of its commitment to energy and operational efficiency and sustainability.
"At TransAm Trucking we focus on selecting game-changing solutions that help us ensure the best possible service for customers and the best possible working environment for drivers and staff while positively impacting our bottom line," said Russ McElliott, president of TransAm Trucking. "We are further committed to implementing systems that meet our goal of safeguarding the physical environment for the larger community, which is why we choose systems that generate minimal environmental impact."
TransAm Trucking leaders recently chose new solutions for upgrading their fleet, including the Precedent S-600, a new trailer temperature control platform that enables them to achieve double digit fuel savings, extend maintenance cycles, monitor predictive component replacement and maximize unit life cycle – all while ensuring compliance with new U.S. Environmental Protection Agency (EPA) Tier IV final regulations and California Air Resources Board (CARB) requirements.
They also the selected TriPac Evolution auxiliary power unit (APU) which lowers overall truck fuel consumption and reduces emissions while providing driver comfort. The TriPac Evolution APU is an EPA Tier IV final emissions standard compliant unit.
TransAm also incorporated ultra-sonic fuel sensors to increase fuel-level-reading accuracy, trailer door switches to track door opening and closings and CARB-compliant trailer skirting. Their new solutions coordinate with an existing telematics fleet management solution that is used to reduce run-time, tracking door openings and provide real-time temperature data.
TransAm Trucking is upgrading all new additions and replacements in their fleet with the new units, starting January 2013. The new solutions also reflect the TransAm Trucking commitment to sustainability, a philosophy that is reflected throughout the company.
Long-term, company-wide commitment to sustainability and innovation
TransAm Trucking has demonstrated a company-wide, long-term commitment to innovation and sustainability. They were the first to provide 100 percent auxiliary power unit technology on their tractors, enabling their fleet to increase energy and fuel efficiency and reduce harmful emissions and were early adopters of auto-shift transmissions and ensuring the most aerodynamic trucks.
TransAm takes a proactive approach to ensure the long-term viability of the company by optimizing resource needs and reducing environmental impacts without compromising service quality, competitiveness, and profitability.
TransAm implemented an intelligent route solution program to reduce the number of out-of-route miles generated by manual trip planning. With the reduction in unnecessary miles, TransAm's drivers complete trips and are dispatched on other loads more quickly.
Additionally, one of the "green" benefits includes a reduction in the amount of diesel fuel used per trip. In conjunction with the route solution, TransAm drivers are also provided with a fuel solution. This solution locates the most economical fuel locations along the driver's route and calculates the optimal amount of fuel to purchase at each location.
One of TransAm's most recent leaps to the technological forefront is the purchase of 1,050 Kenworth T660 and T770 tractors featuring the PACCAR MX engine. This engine meets the Environmental Protection Agency's 2010 diesel engine emissions regulations and utilizes Selective Catalytic Reduction to allow the engine to function at higher and more optimal combustion temperatures, providing increased fuel efficiency and power.
TransAm also recently adopted the use of aerodynamic trailer side skirts which have a proven 7 percent savings in fuel costs. TransAm Trucking also was the first truckload carrier in the United States to implement a system to provide real-time temperature readings every five minutes, helping them ensure that they maintain cargo quality at the highest levels.
The company also incorporates load optimization technology that instantly matches the optimum load to the best truck. The load optimization software analyzes data including load origin and destination, transit time, empty miles, the driver's driving hours available and home time needs and determines the best truck for each load to ensure on-time pickup and delivery.
In tandem with their commitment to energy and operational efficiency, the company demonstrates a long-term commitment to sustainability. In 2007, TransAm Trucking received the U.S. EPA SmartWay Environmental Excellence Award for reducing harmful emissions.