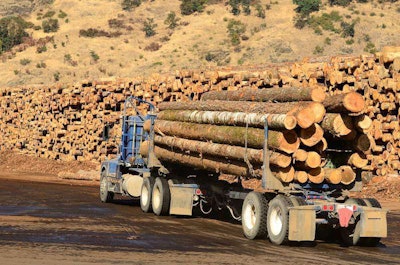 The Oregon Trucking Association is seeking a limited exemption for state timber haulers from the hours-of-service 30-minute break requirement, who agree to restrict their duty day if relief is granted.
The Federal Motor Carrier Safety Administration will provide a 30-day public comment period for OTA's request, set for publication in the Dec. 10 Federal Register. Environmental regulations limit logging operations, which are further resricted during the fire season, when logging trucks often are barred from forests from July to late October by 1:00 p.m. daily.
The break requirement "makes it impossible for log trucks to provide a sufficient volume of logs to the mills when operations are time-limited by fire restrictions," the notice read. Association members engaged in this work will limit driver work days to a 12-hour, rather than a 14-hour day, if the request is granted.
FMCSA has received requests for exemptions to the break rule since the new HOS was implemented last February. It has agreed to allow Department of Energy and certain Department of Defense contract drivers use non-working "attendance time" to satisfy the break rule. Additionally, the National Pork Producers Council received a 90-day waiver for livestock haulers to protect animal's health during extreme heat.
The agency will accept comment, which must include the Federal Docket Management System No. FMCSA-2013-0451, by any of the following methods:
• Through the Federal eRulemaking Portal at www.regulations.gov.
• By faxing 1-202-493-2251.
• Via mail to Docket Management Facility, U.S. Department of Transportation, 1200 New Jersey Ave., SE, West Building, Ground Floor, Room W12-140, Washington, D.C. 20590-0001.