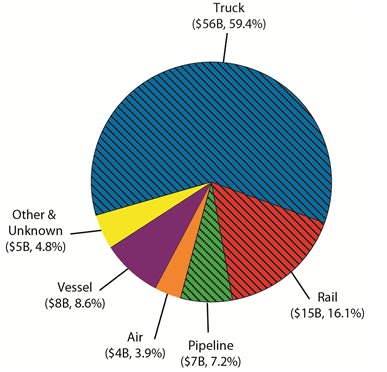 The amount of freight transported between the U.S. and its North American Free Trade Agreement partners Canada and Mexico was 5 percent higher in September of this year than the same month in 2012, according to data released this week by the Department of Transportation's Bureau of Transportation Statistics.
Trucks carried 59.4 percent of the total amount of trade in September — $94.4 billion — between the countries. Truck trade was up 5.4 percent in September from the same month last year and accounted for $29.1 billion in U.S. exports and $27 billion in imports.
Rail carried the next highest amount of freight — 16.1 percent. Surface transportation as a whole, which consists of truck, rail and pipeline, moved 82.7 percent of the total.
Following trends in 2012 and 2011, NAFTA trade dropped month over month, though, down in September from $96.5 billion in August.
Trade with Canada in September totaled $53.1 billion — up 5.7 percent from the same month in 2012. Surface transportation made up $44.2 billion (83.3 percent).
Trade with Mexico totaled $41.3 billion — a 4.1 percent increase from September 2012. Surface trade carried $33.8 billion (81.8 percent) of that.