When considering all the options to enhance or upgrade your fleet management systems, applications in the office and mobile environment will likely take priority over those in the maintenance bay. It is easy to see why.
For many years, fleet maintenance software (FMS) systems have done the same things: schedule service, track repairs and manage parts inventory, among others. Once the software does these basics, bigger challenges and opportunities in the company seem to command your attention.
But, as with all technology, FMS systems continue to evolve. While recent advancements may not be as flashy as other fleet management technology, they do make a difference. Here are four areas you might consider upgrading for 2014:
1. Closed loop inspections
The Compliance, Accountability, Safety program has given fleets and drivers an incentive to pay closer attention to equipment defects, however minor, before they lead to a roadside inspection or worse – a violation.
Managing the flow of maintenance-related information among drivers, the office and the maintenance bay is essential to quickly identify and resolve problems before they surface as CSA violations.
Many fleets have their drivers submit electronic driver vehicle inspection reports (DVIRs) using mobile applications. Any defects found in the reports can flow directly into FMS systems to initiate a closed-loop repair process.
In 2012, PeopleNet and TMW Systems developed such a process.
PeopleNet's touchscreen mobile devices – either the Blu or Tablet platforms – have an icon in the daily workflow menu drivers use to initiate an inspection form. Forms that contain noted defects are captured by TMW's fleet maintenance system, called TMT, into a queue of pending repair orders. Mechanics review items in the queue and initiate repair orders. Once repairs are complete, TMT sends an acknowledgement to drivers via the PeopleNet in-cab device.
J.J. Keller offers an electronic DVIR application in its Keller Mobile electronic onboard recorder that uses Android devices for the driver display. The DVIR is integrated into Keller's Encompass management portal. Inspection defects are displayed on the Encompass dashboard with a maintenance feature to create repair orders and manage the process through completion.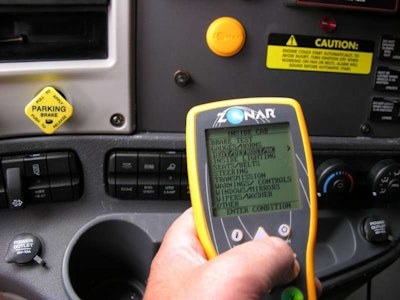 SquareRigger Software, which offers the SQ.7 fleet maintenance management system, has an integration with Zonar. The integration adds inspection defects to SQ.7's Work Request system to create repair orders and schedule service. Zonar provides the 2020 Tablet that offers commercial navigation, hours-of-service, two-way communication and electronic vehicle inspections on an open Android platform.
Arsenault Associates, developer of the Dossier fleet maintenance system, plans to complete an integration with Zonar this spring. As part of the pending integration, diagnostic trouble codes captured by Zonar directly from engine and vehicle electronics will be included in the scheduling and repair process, says Bob Hausler, vice president of marketing and technology for Arsenault Associates.
Omnitracs' Vehicle Inspection Report integrates with third-party fleet maintenance software including TMW's TMT Fleet Maintenance software and Cetaris. Integration is also available to those wishing to integrate through External SQL Sources (ESS), the company says.
2. Pre-notifications
FMS systems can provide visibility of pending maintenance work to fleet managers, load planners and other office staff that directly control the daily schedules of drivers and equipment. This visibility allows maintenance work to be scheduled more conveniently within the daily flow of operations.
Dossier from Arsenault Associates interfaces directly with McLeod Software's LoadMaster transportation management software (TMS). Dossier sends notifications to LoadMaster for any pending maintenance work. The notifications display in the dispatch and load planning screens. Dossier also receives information back to assist with scheduling such as odometer readings from any of the telematics systems that integrate with LoadMaster.
PCS Software offers a cloud-based TMS with an integrated fleet maintenance module. With this module, clients have the option to set up a flagging system that interrupts the dispatch process when trucks are due for service, says Sean VanDyck, vice president of sales.
The flagging system will start to warn the dispatchers a certain number of days or miles before a scheduled service is due. Carriers can also set the flagging system to automatically lock the truck from being dispatched if the service does not get addressed after the warning period has expired.
3. Seamless accounting
FMS systems have built-in accounting features to track maintenance expenses and create purchase orders for parts and third party vendors, among other features. For maximum efficiency and control, fleets prefer to manage all financial transactions from a single general ledger accounting system.
Both Dossier and SQ.7 integrate with LoadMaster to send cost information from work orders directly to LoadMaster's general ledger. Similarly, purchase orders flow directly into accounts payable.
Accounting integration is also a useful feature for fleets that perform outside repair work in their shop facilities. Invoicing and managing receivables can be managed directly from the central accounting system.
For financial reporting, PCS Software's maintenance module has all parts and labor costs integrated with its dispatch and accounting databases. Management can view profit and loss statements per truck and trailer and see the service costs for assets through any date range.
"Our financial reports constantly combine this data with fleet miles to provide instant cost per mile reporting, in real time," VanDyck says.
4. Managing service events
FMS systems have traditionally not provided visibility to maintenance service events outside of company-owned facilities. New technologies can change that paradigm.
Service event management is an area that the Decisiv platform was created specifically for.
"Everything we do is based on managing the front-end process correctly," says Michael Reimer, vice president of marketing for Decisiv. "If you do this, everything that gets input into system of record after the fact is correct."
The Decisiv platform captures vehicle inspections and other service event data from electronic forms used to trigger a maintenance service event. From this point, the progress of the repair is tracked through all stages from cost estimate to completion and reimbursement for parts and labor covered by warranty. The Decisiv platform integrates with over 35 different maintenance management systems used by dealers, independent shops and fleets.
About two years ago, Ryder Systems, Inc. introduced on-demand maintenance service to fleets of all types, not just those that use its full-service leasing service. Last year, Ryder embarked on a $25 million investment for its IT infrastructure. The investment will add many new capabilities such as reporting and integration features for fleets that use its on-demand services at over 800 locations in the United States and Canada.
Today, Ryder sends fleets documents and files for work performed on their vehicles and has started to integrate service event data with Decisiv, TMW Systems and Zonar. Its customers can also sign in to a Web portal to view their vehicle repair histories, says Mel Kirk, vice president of maintenance and quality operations for Miami, Fla.-based Ryder Systems.
As illustrated by these examples, it is impossible to get the full value from fleet maintenance software without integration. The software runs best when fully connected to other management systems, inside and outside company walls.