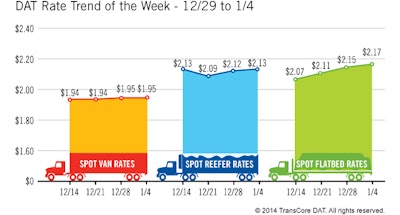 Spot market rates according to loadboard DAT mostly rose in the first week of the year, as flatbed rates rose 0.9 percent to $2.17 and reefer rates rose to $2.13. Van rates were flat at $1.95 a mile.
Year over year, van rates on the spot market are up 11 percent, while flatbed rates are up 4.3 percent, according to DAT. Reefer rates fell year over year 3.2 percent. All were up a few percentage points in December from November, however.
The amount of loads available on the spot market rose 6.9 percent week over week, but were up 49 percent from December 2012.
DAT's report also paints a picture of a tightening capacity, as spot market capacity fell 8.9 percent week over week and 17 percent from November. Capacity was only down 2.3 percent from the same month in 2012, though.
Moreover, the load-to-truck ratio in all three segments tightened, rising 23 percent for van loads, 6.3 percent for flatbed loads and 18 percent for reefer loads.
Year over year, those increases are even greater: 42 percent for van and flatbed and 58 percent for reefer, according to DAT.