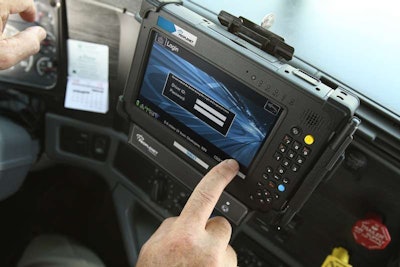 A proposed rule mandating the use of electronic logging devices is expected to be published in the Federal Register Jan. 29, according to a monthly Department of Transportation report, which says the rule is projected to clear the White House's Office of Management and Budget Jan. 17.
The report also says the rule will have a 60-day comment period that will last until April 1.
The Federal Motor Carrier Safety Administration's drug and alcohol clearinghouse rule is also set to clear the OMB Jan. 17, and the DOT report projects that the rule will be published in the Federal Register Jan. 31.
The rule will establish a database of drivers who have failed or refused drug or alcohol tests, and carriers will be required to submit failed or refused tests to the database. Carriers also will be required to query the database when hiring drivers.
The electronic logging device (formerly known as electronic onboard recorders) rule will not only mandate the use of e-logs but will set device standards and address driver harassment relative to e-log use.
In its monthly update in December, FMCSA projected the rule would be published Dec. 23.
Also in the report was an update on the agency's Safety Fitness Determination rule, which is now projected to be published Aug. 4, with a projected OMB clearance of July 24.
The rule would change the data set and methodology FMCSA uses to produce an overall safety score for a carrier. Now, it uses only data from compliance reviews, whereas the rule would allow the agency to use data from its BASIC scores in the Compliance, Safety, Accountability system; roadside inspections; and crash data.
A rule complementing the e-log mandate — designed to prevent the coercion of drivers to drive in violation of safety rules by carriers, shippers, receivers or other intermediaries — is projected to clear the OMB April 14 and be published in the Federal Register on April 23.