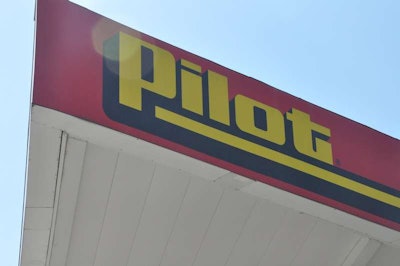 Pilot Flying J has reached a settlement with Western Express in a lawsuit in which the carrier said Pilot's alleged fuel rebate withholding scheme cost it $75 million in expenses and debt, according to Rachel Albright, a spokesperson for the truck stop chain and fuel provider.
The details of the settlement are confidential, per the terms of the deal.
Western Express alleged in its lawsuit, filed in August, that it was defrauded out of $2.5 million in owed fuel rebates, which caused it to not meet certain financial requirements for its creditors, which then cost the company another $73 million in more debt, fees, legal costs and consulting.
Pilot settled with 5,500 trucking companies in late November in a class action lawsuit — the terms of which amounted to $85 million in principle, interest, audit costs and attorney's fees that Pilot would pay to members of the class.
However, class members could choose to opt out of the settlement to pursue a different course, like a separate lawsuit.
Pilot's headquarters were raided in April by FBI agents, who then released an affidavit three days later detailing federal accusations against the company that it had cheated trucking companies out of millions of dollars in fuel rebates over a five to seven year period. Since April, several Pilot employees were dismissed from the company and some have pleaded guilty to fraud charges in court.
Western Express was mentioned in the affidavit, saying John Freeman, a Pilot salesperson — to square up with Western Express after the carrier caught onto Pilot's alleged scheme — bought an airplane from Western Express for $1 million.
Freeman in a transcribed conversation in the federal affidavit said that Pilot was defrauding Western Express out of $450,000 a month. Western Express' August lawsuit says the fleet purchased about $1 billion in fuel from Pilot during the time period the alleged fraud took place.