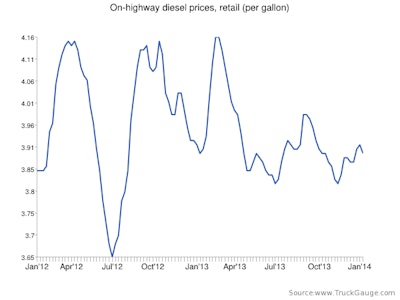 The national average price for a gallon of on-highway diesel fell in the week ended Jan. 13 for the first time since the middle of December, declining 2.4 cents to $3.886 a gallon, according to the Department of Energy's Energy Information Administration.
That drop is also the largest since a 2.5-cent drop Nov. 11, and is the third largest drop since a 3.6-cent drop in the week ended April 29.
The price decline also ended a three-week string of increases.
The national average price is almost the exact same as it was in the same week in 2013, down just eight-tenths of a cent year over year.
Week to week, prices also fell in all regions nationally, led by a 4.3-cent drop in the West Coast less California region, a 3.8-cent drop in the West Coast region (including California) and 3.4-cent drops each in the California region and the Midwest.
For the first time in months, the California region no longer has the U.S.' most expensive diesel — That crown in the most recent week belonged to New England, where diesel averaged $4.107 a gallon.
The Gulf Coast region still has the country's cheapest diesel, $3.780 a gallon.