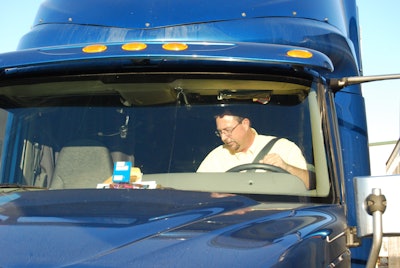 The International Window Film Association has filed with FMCSA an application for exemption to the the agency's window tinting rules, saying allowing windows with more tint will promote driver comfort and reduce eye strain of driver.
The Federal Motor Carrier Safety Administration has published guidance saying that trucks can have window tent that is clear and that restricts light transmission by no less than 70 percent.
The IWFA wants to push that number to 50 percent, saying in its application that by reducing the amount of light entering truck cabs, drivers will be more comfortable and the truck will expend less energy trying to keep the cab cool. It also could reduce eye strain, IWFA says.
The requested film is "essentially 'clear,'" IWFA says, and it would be hard to discern it from 70 percent tint from the outside of the cab.
"This level of application would retain the industry's commitment to the enforcement community and also provide the commercial fleet operator with the expanded benefits of a larger number of film products which can provide energy and emissions improvements," the application reads.
FMCSA is currently accepting public comment on the application until Feb. 24. Comments may be submitted at regulations.gov, faxed to 202-493-2251 or mailed or hand delivered to Docket Management Facility, U.S. Department of Transportation, Room W12-140, New Jersey Ave. SE, Washington, D.C., 20590.
FMCSA confirmed in 2012 to the IWFA that tinting the windows of Class 8 trucks is legal, pointing to its guidance that trucks are allowed to use clear window films as long as 70 percent of light is able to be transmitted.
In CCJ coverage of that confirmation and guidance in April 2012, it was noted that the Skin Care Foundation recommends clear window tints with a minimum of 70 percent light transmission for side windows and for the windshield.