Shippers traditionally have wanted to limit or even eliminate accessorial charges, meaning carriers "were stuck with that cost," explains Transplace's Ben Cubitt. The result has been carriers must try to make up those losses in rates.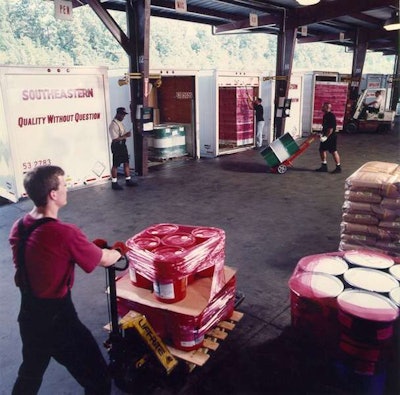 But, as capacity tightens, times are changing, he tells CCJ in a follow-up chat about the 3PL's latest accessorial benchmark study.
"Shippers have mutual but sometimes conflicting goals with accessorials: They want to make sure that they're competitive with their peers in the industry and they don't want overly generous accessorials, but they also want to be fair to the carriers," he says. "Benchmarking helps to really document what the current practice is out there."
More and more, shippers are using transportation management systems to better track their freight operations. The goal now should be not to eliminate accessorial charges from shipping contracts, but to "keep them from happening."
"Old-school shippers thought of accessorials as another way for carriers to try to make money, a big revenue source," Cubitt says. "The reality, in almost every instance except fuel surcharges, is the carrier doesn't really want to apply an accessorial, because that generally means the plan broke down. The shipper and the carrier are jointly operating in non-optimal fashion. It's inefficiency in the supply chain."
And shippers also realize, in a time tightening truck capacity, carriers have their choice of loads.
"The real way to be a preferred shipper is to manage accessorials to an absolute minimum by instance, not by rate," he says.
A few shippers, he notes, have even taken the lead in proactively tracking – and paying – detention charges, for example.
But while the industry – or at least the more progressive and far-sighted shippers and receivers – recognizes the importance of a trucker's time, there's still plenty of resistance to compensating for it. The default position for shippers is to manage costs and it's often more easily done on the front end, in contract negotiations.
So what's the best way for carriers to get what they deserve?
Cubitt has some thoughts, based on 20 years of working with shippers to eliminate waste in their freight operations, including working on bid projects for multiple Fortune 500 companies in the consumer products, paper and automotive industries.
"I see the carriers' case for accessorials made most effectively as part of the discussion of the overall relationship with the customer," Cubitt says. "They may come in to complain about being held up too long, but it's still the rare carrier that comes in with data."
Cubitt suggests sending in a management team, rather than just a sales rep with a target to hit.
"When a carrier comes in and shows its true costs, shows what happens when it has to apply an accessorial and that it still doesn't recoup all of the costs, that's what's really effective," he says.
Specifically, a carrier needs to identify how often trucks have been delayed at a customer's plant or across that network, and compare that data to other shippers' performance.
"Not in a finger pointing way, but in a collaborative way," Cubitt says, emphasizing the importance of working mutually to reduce inefficiencies. "That's the most effective way to shift the conversation and to become partners with the shipper."
Of note, Transplace has made the rounds of its carrier partners and is putting together a report "on what it means to be a preferred shipper," recommendations for carrier-friendly practices – "what's really important when a truck gets to shippers."
Coming none too soon.