The "crossroads of America" has become a continuous stretch of toll roads that connect Chicago to major metropolitan areas in the Mid-Atlantic and New England states.
Going East on Interstate 90, the Chicago Skyway starts on the city's south side for eight miles to the Indiana state line. The Indiana Toll Road takes over as I-80 joins in for the 156-mile ride to Ohio. The tolling continues for another 241 miles on the Ohio Turnpike.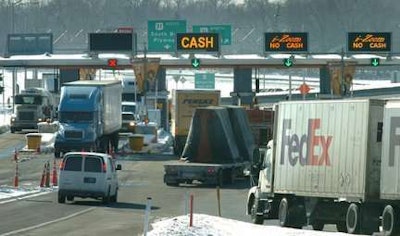 In Youngstown, Ohio, I-80 splits from the Turnpike but the tolling resumes on I-76 to Pennsylvania. At the border, the Pennsylvania Turnpike goes on to Pittsburgh, Philadelphia, Baltimore and many points in between.
The 758-mile trip from Chicago to Philadelphia via the Ohio and Pennsylvania turnpikes costs approximately $237 in tolls for a commercial vehicle, while the 759-mile trip via I-80 and US-322, bypassing a long portion of the Ohio and Pennsylvania turnpikes, costs $124. The 700-mile trip to Baltimore via the Pennsylvania Turnpike and on to I-70 costs $164.
In general, toll costs from Chicago to destinations on the East coast will account for between 8 and 19 percent of the total cost to operate commercial vehicles on these routes. The margin gets worse if going up and down the northeast corridor. The tolls here account for as much as 23 percent of total cost.
On the major corridors through this area of the country only fuel and labor exceed tolls on a cost-per-mile basis, but these two have not been rising as sharply. From the third quarter of 2012 to the second quarter of 2013, toll rates have gone up by as much as 11 percent.
Mapping, mileage and routing software applications offer an alternative. These applications provide a current and instantly searchable database of the posted rates for all toll facilities — tunnels, bridges and roadways — in North America. The tolls database is combined with the latest advancements in map data and routing technology.
On the front end, fleets can use the technology to accurately price their services and to plan least-cost truck routes. To determine the toll costs, applications consider the origin, destination, route preference (fastest, shortest, toll discouraged, etc.), vehicle configuration (5-axle combination vehicle, 3-axle straight truck, etc.), time of day, and other parameters.
The technology can also be used on the back end for post-trip route analysis to compare the planned route and costs to the actual costs.
Before using an application with a tolls product, it was difficult for U.S. Xpress – or any fleet for that matter – to know its expenses on individual routes, White says.
"In irregular route truckload, the tolls are aggregated into the rate. For pricing and bidding we are now able to identify and do a much better job culling out the cost of tolls to drive pricing in today's environment."