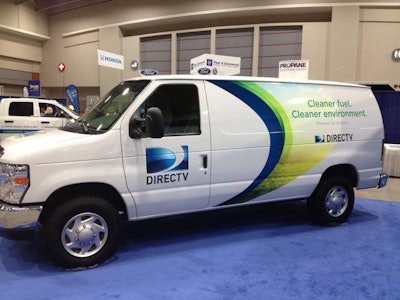 Natural gas (in all its forms) may get most of the alternative fuel headlines, but propane autogas is positioning itself to steal a few of its own.
A second cousin to natural gas, propane is actually derived from its competitor at the pump.
"In my world, propane is one of the heavier things in a natural gas well, or it can be one of the lighter things in an oil well," says Tucker Perkins, Chief Business Development Officer for the Propane Education and Research Council (PERC), adding that approximately 75 percent of all propane produced stateside comes from natural gas wells. "We, too, are completely domestic (and) completely abundant."
Many of the similarities stop there. Compressed Natural Gas (CNG) is stored at roughly 3,600 PSI, while propane is stored at 300 PSI, offering signifiant cost and weight benefits.
"Our tanks are historically a lot lighter. Our tanks are historically cheaper," Perkins says, "which means we can have a positive impact on payload."
Propane is stored and pumped as a liquid and is also burned as a liquid in the engine, which means much of the fuel system doesn't have to be replaced with aftermarket conversion kits.
What fleets looking to enter the alternative fuel market may find most appealing about propane is how inexpensive the entry point can be when compared to natural gas.
"Often the cost of operating (a propane) station for a month is just a decimal point of the cost to operate a CNG station for a month," Perkins says, adding a propane infrastructure can cost upwards of $50,000 per site. "You can't touch a fast fill CNG station for 15 times that amount. Most propane retailers will actually even supply the infrastructure in exchange for the supply contract."
With its largest engine – an 8.8 liter – producing 600 foot pounds of torque, propane hasn't cracked into the heavy-duty market yet, but Perkins says plans for turbocharged options are underway. The council is also looking at diesel-blends for higher horsepower applications.
"That will probably quickly move us over 700 pounds of torque," he says.
The heavy-duty market has been slow to develop, in-part Perkins says, because PERC has been focused on dedicated route, return-to-base fleets.
"We've had so much activity with 4 liter engines, 6 liter engines, 8 liter engines that we just didn't have the engineering bandwidth or the financial bandwidth to chase after these larger engines," he says.
In the last 6 to 8 months, PERC has focused growth strategy on package delivery fleets, but discussions to enter the heavy-truck segment are ongoing.
"We've had a lot of opportunity to talk to people about Baby 8s, single axle tractors, beverage delivery and some of that," he says. "We just haven't found the perfect partnership yet."
PERC will display a Freightliner box-style truck at NTEA in Indianapolis next month that Perkins thinks will be quickly adopted by rental fleets and pickup and delivery fleets.
The truck marks Freightliner's first entry into the propane segment that wasn't built specifically for the propane industry. Previous models were a propane bobtail and a flatbed for tank delivery.
In the coming years, Perkins sees propane's place in the market growing thanks in part to stable pricing, with even some downward pricing pressure.
"I see propane almost dominating the AltFuel direct injected (engine) market," he says. "It's giving us better fuel economy, much cleaner emissions and, frankly, at a much cheaper installed price because we're using much more of the OE equipment. Looking ahead, it looks like we're going to be able to meet CARB standards easier and deliver an even more efficient vehicle at a lower price."