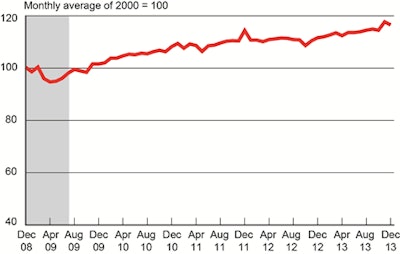 The amount of freight carried by the for-hire transportation industry in December dropped slightly from November, but it's still pushing the all-time high reached the month prior, according to the Department of Transportation's Bureau of Transportation Statistic's Freight Transportation Services Index.
The number of freight shipments in December fell 1 percent from, per the DOT's data, as the index was down to 116.5 from November's 117.7, which was upwardly revised from preliminary data released last month.
The index also still is up 23 percent from April 2009's low in the most recent recession. It's also measured above 2012's high point in every month in 2013, marking its second highest point ever in December.
Year to date, freight shipments were up 4.4 percent in 2013 over 2012. December 2013 was also 4.4 percent higher than December 2012.
The index hit two all-time highs in 2013, once in September then again in November, both topping the previous high from December 2011.
The index had been boosted in recent months, per the DOT, by "tonnage intensive industries" like construction, oil and gas fracking and auto production.
The drop in December, however, was due to a small decline across all modes, the DOT reported this month.
The American Trucking Associations, who also produced a monthly tonnage report, had been reporting similarly — heavier loads accounted for the increase in tonnage rather than more overall loads.
However, ATA reported in its most recent tonnage report for December that tonnage grew more broadly across all sectors.