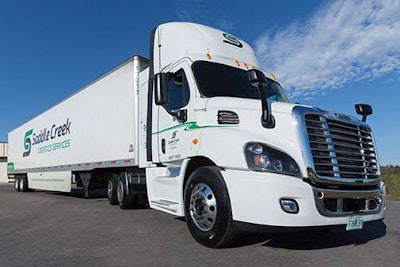 On February 14, Saddle Creek Logistics Services will embark on "The Great American Green Ride," the first cross-country trip with a for-hire, compressed natural gas (CNG) truck. The
CNG truck will travel from Lakeland, Fla., to San Diego and back. On the trip, Saddle Creek will make deliveries for two top CNG customers: Procter & Gamble and Lowe's.
"CNG is one of the cleanest-burning fuels available, so it is an ideal option for supporting our customers' sustainability strategies," said Mike DelBovo, Saddle Creek Transportation president. "This trip gives us a great opportunity to showcase CNG's ability to reduce our carbon footprint. In the course of this 5,800-mile round trip, the truck will reduce its carbon emissions by 7,656 pounds – more than a pound a mile."
The Freightliner Cascadia Evolution truck with a 12-liter engine and advanced aerodynamics belongs to Saddle Creek's fleet of more than 140 CNG tractors. The truck is capable of traveling up to 600 miles when fast fueled and will stop for fuel at commercial CNG stations on its route across the country.
"We've already travelled more than 15 million miles on CNG in support of our customers' local and regional delivery needs. Taking this coast-to-coast road trip is a natural next step and a great way to generate excitement for this environmentally friendly transportation solution," said DelBovo. "It represents a significant landmark for alternative fuel technology."