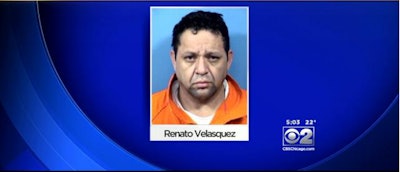 Renato V. Velasquez, a truck driver licensed in Illinois, has been ordered by the Federal Motor Carrier Safety Administration to cease operations after the agency discovered Velasquez had far exceeded federally allowed on-duty time and falsified his logs to conceal it.
FMCSA announced Feb. 13 it had issued an imminent hazard out-of-service order to Velasquez, who on Jan. 27 crashed into two fully illuminated stationary vehicles, killing one person and causing life-threatening injuries to another.
One of the vehicles was a state trooper car with the emergency lights on, and the other was an Illinois Tollway vehicle with an activated warning arrow. The Tollway worker was killed in the crash.
A subsequent agency investigation found Velasquez had been driving for a period of 26 straight hours, with just three and a half to five and a half hours worth of breaks. However, some news outlets, like the Chicago Sun Times, have reported Velasquez had been on-duty — mostly driving — for upwards of 35 hours.
He has been charged with multiple felonies.