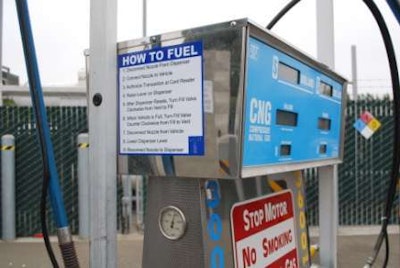 The natural gas vehicle steering committee for the National Conference of Weights and Measures is preparing a recommendation that could change the way compressed natural gas and liquefied natural gas is priced and dispensed at the pump. Among the items being considered is a change in the method of sale of natural gas by weight, specifically kilograms. Currently, natural gas is priced and dispensed as diesel gallon equivalents (DGE) or gasoline gallon equivalents (GGE), providing a more understandable comparison of natural gas prices in relation to diesel and gasoline.
The NCWM will take under consideration any proposal from the steering committee and could vote on it as early as this summer.
For early adopters of natural gas trucks, energy comparisons between diesel or gasoline and CNG or LNG are already difficult enough. CNG users are familiar with GGE and DGE, while LNG users know DGE.
Natural gas adoption in the trucking industry has been a slow but steady climb in the last 10 years, and there is lots of confusion around operating ranges, which fuel type is best suited for a particular operation and availability and infrastructure. Redefining the way natural gas is sold in the market to retail consumers and trucking companies will only muddy the waters and likely would impact natural gas adoption.
Interested parties in the natural gas industry are advocating to the steering committee the adoption of a DGE standard for both CNG and LNG in commercial applications.
Natural Gas Vehicles for America, an association dedicated to promoting natural gas- and biomethane-powered vehicles, has provided the following call to action for fleets and other trucking industry groups interested in weighing in on the matter:
1. Write to or contact your state weights and measure official(s) (see link below) to let them know that you support adoption of a DGE standard for CNG and LNG that provides for the use of this standard as the primary method of sale.
2. Write/e-mail the NCWM NGV Steering Committee to let them know that you support adoption of a DGE standard for CNG and LNG that provides for the use of this standard as the primary method of sale (N-G-Steering-Comm@list.ncwm.net)