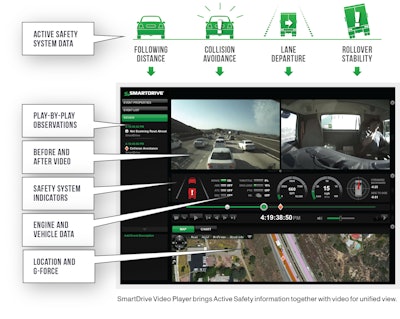 SmartDrive Systems, a provider of driving performance systems for reducing collisions and improving fuel efficiency, announced that Millis Transfer, Inc., a Wisconsin-based dry-van truckload carrier that offers regional and dedicated fleet services, has deployed SmartDrive's video and data capture systems across its entire fleet of vehicles.
The company is using the system to improve its safety program, manage CSA compliance and protect customers against liability.
"There is a lot at stake in today's transportation industry — from losing current business to winning big new contracts," said Dan Millis, director of safety for Millis Transfer. "We wanted a video based safety system that would provide us with greater visibility of what happens out on the road in order to better protect our drivers, our customers and our fleet against fraudulent claims and liability."
During the initial deployment, Millis Transfer experienced immediate improvements in key areas such as a 60 percent improvement in seatbelt utilization, 45 percent reduction in mobile telephone use, and a 27 percent reduction in speeding events. In addition, they were able to realize a 4.7 percent improvement in fuel consumption through safer driving.
Millis Transfer serves a diverse range of customers who ship a wide variety of freight including glass containers, food and beverage products. The team goal is to provide their customers with the safest, on-time delivery service available on the market.
Prior to SmartDrive, Millis Transfer implemented a variety of different safety programs including a 1-800 phone number and regular review of hard-braking reports. However, there was a gap between what those programs delivered and understanding what actually happened on the road, leaving many unanswered questions.
"Today, shippers have become much more selective of the carriers they hire and are requesting both public and non-public BASIC scores under CSA to eliminate carriers that could put them at risk. With SmartDrive, we can proactively identify and eliminate driving risk that leads to collisions, demonstrating to shippers our ongoing commitment to safety."
SmartDrive captures a broad spectrum of risk and leverages predictive analytics from its database of more than 70 million driving events, along with an expert review process that identifies other distraction risks such as cell-phone usage and drowsiness, to prioritize the areas for coaching that will measurably reduce collisions.
"Millis Transfer is a great example of a fleet that views safety as an essential component of its overall business strategy and key to building their growing customer base. We are proud to have them join the SmartDrive family," said Steve Mitgang, CEO of SmartDrive.