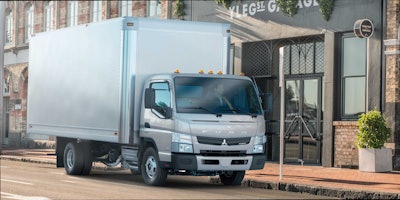 Mitsubishi's Fuso brand unveiled March 5 the new canter FE130 work truck in Indianapolis at the NTEA Work Truck Show.
The Class 3 truck got a boost in GVWR by 700 pounds to 13,200, which will allow the truck more versatility among owners, said Fuso President and CEO Todd Bloom.
"Strategically, this new truck is a direct result of our continuing efforts to improve and refine our products to provide increasing value to Fuso owners," he says. "We added a long-wheelbase option to our 2014 model FE125 as a running change in the fall of 2013. The new 169.3-inch wheelbase option allows installation of 20-feet bodies — which greatly expanded the cargo volume capabilities of our lightest truck."
Transporters of high-bulk items will get the most benefit out of the truck's new features, Bloom said, and the longer wheelbase and GVWR increase work hand-in-hand, improving the truck's efficiency and allowing the truck to carry more each trip, Bloom said.
"That 700 additional pounds," Bloom says, "means two more zero-turn landscaper mowers or 700 lb. more mulch per trip. Or 33 additional cases of soda, 560 loaves of bread or 1,806 bananas."
Also, the FE130 has better acceleration and better responsiveness at steady speeds. The truck will be available for order by mid-April, Fuso said.