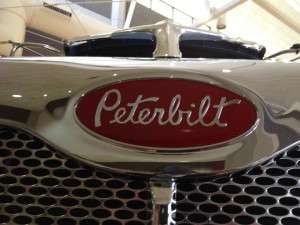 Peterbilt Motors Company will showcase its new all-purpose vocational Model 567 and other vehicles during the 2014 CONEXPO-CON/AGG show in Las Vegas at the Las Vegas Convention Center this week.
Peterbilt is located in booth #63940 and will feature the following the vehicles:
· Model 567 spec'd with a lube, fuel and service body
· Model 567 equipped with a crane
· Model 567 installed with a mixer body
· Model 567 with a hydro-excavator
· Model 320 in a concrete pumper configuration
"We're excited to show the Model 567's extreme versatility in numerous vocational configurations at one of the industry's premier construction events," said Charles Cook, Peterbilt's Marketing Manager of Vocational Products. "Customer reception of the new Model 567 has exceeded even our high expectations and to showcase it CONEXPO-CON/AGG gives us an opportunity to introduce this truck to tens of thousands of contractors and fleet managers."
The Model 567 is a lightweight, highly versatile vocational vehicle that is a rugged truck and tractor capable of meeting the demands of most any jobsite. It can be ordered in 121- and 115-inch BBC lengths – both versions are on display at the show – with a wide variety of heavy-duty components and axle configurations for increased payloads and optimized weight distribution. It has a set-back front axle that provides excellent maneuverability and a tight turning radius, according to Cook. "Combined with the panoramic view from the cab, drivers will enjoy enhanced visibility and productivity throughout virtually every operating condition," Cook added.
The Model 567 is standard with the PACCAR MX-13 Engine with up to 500 horsepower and 1,850 lb-ft of torque and can be ordered as a day cab or with Peterbilt's complete line-up of detachable sleepers.