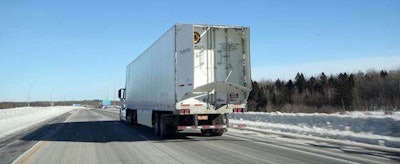 ATDynamics announced that in response to President Obama's recent orders for tighter fuel efficiency standards for heavy duty trucks, it will offer trucking fleets aerodynamic equipment combination packages that have been tested at the Auto Research Center (ARC) wind tunnel in Indianapolis, Indiana to deliver 9.6, 10.6 and 11.2 percent fuel savings.
"The technologies exist today to immediately reduce the fuel consumption and carbon emissions of the long-haul trucking industry by over 10 percent," said Andrew Smith, CEO of ATDynamics. "ATDynamics customers have already successfully deployed over 20,000 combination packages of TrailerTails® and side skirts on their trailers to date, ahead of regulatory requirements. We have invested heavily in our manufacturing, sales and service operations in order to facilitate industry-wide adoption of the highest efficiency, lowest cost and most durable aerodynamic devices available."
ATDynamics anticipates that the US EPA's SmartWay group will soon offer guidance on new higher fuel efficiency thresholds to meet President Obama's orders to reduce the road freight industry's fuel consumption and carbon emissions.
EPA SmartWay currently has two verification categories for aerodynamic devices: one percent and five percent fuel savings. To promote greater fuel efficiency for heavy duty trucks and trailers, it is expected that new categories will be developed that allow a combination of devices to be verified for greater than five percent savings.
In concert with ATDynamics' aerodynamic side skirt partners, the Company has tested different side skirt configurations in combination packages with its high efficiency TrailerTail at the ARC wind tunnel.
In addition to wind tunnel testing, ATDynamics has conducted extensive on-road SAE Type II J1321 fuel efficiency testing of TrailerTail and side skirt combination packages and has verified reduced fuel consumption by 9 to11 percent at highway speed, which aligns with the reported wind tunnel test results.
TrailerTail technology has been incorporated into three of the Department of Energy's SuperTruck Projects highlighted in President Obama's speech on February 18th 2014 as a key technology to meet the project requirements of increasing the freight efficiency of a semi-truck by 50 percent.