IdleAir, the long-struggling provider of truck stop electrification services, has turned the corner on operational profitability, company executives explained during a press briefing at last week's Mid-America Trucking Show.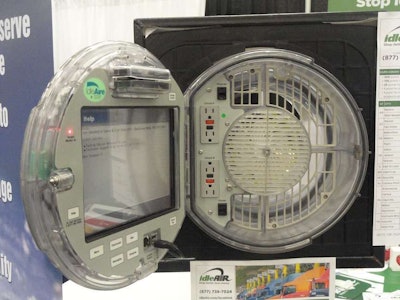 The key has been partnering with carriers to develop on-site, dedicated fleet facilities, as well as more selective expansion at truck stops and closing unprofitable legacy locations, says CEO Ethan Garber.
"We inherited a collection of facilities from our predecessor that were never profitable," Garber says, adding that these locations had been kept open to build out the IdleAir network. "Our strategy now is to maintain only the sites that make money for us and our customers."
IdleAir's current ownership took control of the company after its initial rapid expansion resulted in a steady flow of red ink and subsequent bankruptcy proceedings.
"At an operating level, we were profitable in 2013," adds COO Jeff Tuck. "But we are growing company. We are allocating capital to continue our growth."
A prime example of the more successful strategy is the Laredo, Texas, market, where the combination of extreme weather and border truck traffic has created "overwhelming" demand for IdleAir services.
The company has recently broken ground on a new facility at the Flying J there, to complement a very busy Pilot travel center operation, nearly doubling capacity in Laredo.
IdleAir's parking spaces in the market have been running at 100 percent occupancy for 21 hours per day, Tuck told CCJ. That compares to a system-wide average of about 90 percent occupancy for 8 to 11 hours.
IdleAir also completed construction of dedicated fleet terminals in Laredo for C.R. England, Werner Enterprises, and Con-way last year, the company reported.
The terminal partnerships will be a major focus of IdleAir's expansion efforts moving forward, Tuck added.
Additionally, IdleAir announced the integration of its Convoy Points loyalty program with Pilot Flying J's MyRewards program. IdleAir's 40,000 active customers (including professional drivers from more than 600 fleets) have accrued over 15,000,000 Convoy Points, which will shortly be fully convertible into drivers' existing MyRewards member accounts, the company says.