Could the implementation of the electronic logging device mandate cause huge numbers of drivers to simply bow out and leave the industry out of frustration with perceived overregulation?
According to results from a recent survey done by CCJ publisher Randall-Reilly, a big chunk of drivers are threatening to leave the industry if the Federal Motor Carrier Safety Administration's proposed ELD mandate comes to fruition, which could be as early as 2016.
More than 70 percent of the more than 2,300 independent truckers surveyed said they'd retire or quit the industry if they're required to use logging devices.
Another 52 percent of leased owner-operators and company drivers said they'd quit driving when the ELD mandate begins.
Whether they'll follow up on these threats is not clear, but a more grounded and realistic expectation is that an ELD mandate could accelerate retirement of older truck drivers, says Jay Thompson, president of Transportation Business Associates.
"Those are the drivers I would expect to actually leave – those that see in [the mandate] a reason to go ahead and say 'I'm done with it,' " he says.
It's well known that while the American Trucking Associations and many fleets threw their support behind the ELD mandate in the MAP-21 rule (and before, with prior mandates), drivers and owner-operators have been skeptical of such a rule.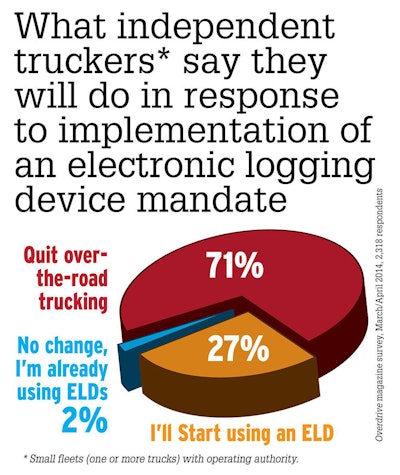 Thompson, however, says once the mandate comes, he expects " a really begrudging kind of adoption" by drivers and independents alike.
ATBS' Todd Amen predicts a similar scenario, saying drivers who want a paycheck will use ELDs when the time comes. "I do think there are plenty of older independent contractors that are scared and stubborn," Amen says. "But when it comes down to it, they'll work under ELDs if they still need a paycheck, and most of them won't be able to retire on Social Security [alone]."
The ELD mandate alone, however, may not be the issue, says Amen. It's the piling-on effect for drivers, with the proposed mandate coming less than a year after restrictive hours rule changes that drivers say hurt their miles and pay. Both regulatory actions are unappealing to drivers who've been in the industry a while, Amen says.
Post-adoption, however, drivers seem to become much more accepting of the devices, notes Artur Express' Todd Walthall, recruiting manager for the carrier. "I have had people mention to me that they don't know how they've gotten along without them" after making an initially reluctant transition, Walthall says. The 300-plus-truck carrier has 20 unites running with logging devices.
Amen, too, has seen a shift in attitudes of drivers even after just a few days of use. "It is not a big deal if the driver doesn't make it a big deal," Amen says, citing positives of taking "guesswork and burden" out of calculating hours and giving fleets the chance to plan better and help owner-operators boost their productivity.
Note: This story is an adaptation of a story originally appearing on CCJ sister site Overdrive. Click here to read the full article.