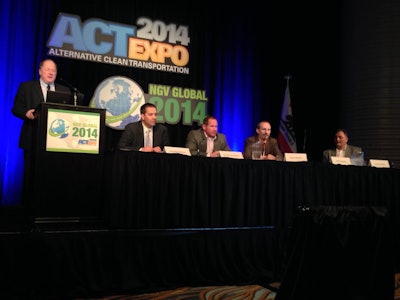 During a panel discussion of carriers and shippers at the ACTExpo in Long Beach, Calif., shipper and carrier representatives from Owens Corning, American Honda Motor Co., Sheehy Mail Contractors and Seaboard Foods outlined their strategies for natural gas adoption.
David Uncapher, transportation sourcing and operations leader for Owens Corning, says his company is making a huge push into sustainability efforts that includes working with carriers using natural gas vehicles to continue that corporate sustainability initiative and reduce dependence on foreign oil. "I would be remiss if I didn't say we are also looking for savings," says Uncapher. "We look at the volatility of fuel prices, and the stability of natural gas over the next few years is very attractive to us."
Owens Corning's goals are to move 50 percent of its freight miles on natural gas trucks by 2018, roughly 60 to 70 million miles.
To encourage carrier partners to invest in natural gas vehicles, Owens Corning is offering longer-term contracts in the three- to five-year range with carriers willing to switch to natural gas. "We know there is an investment, but we have to give them the stability to know that we aren't going to source them for a year and then turn around and terminate the contract."
As much of Owens Corning's freight is one-way, Uncapher is also collaborating with several other shippers to build lanes to create round-trip opportunities for carriers.
Carriers looking at natural gas adoption also are working to pull shippers into the process. Sheehy Mail Contractors contracts with the U.S. Postal Service for mail distribution. John Sheehy, company president, says USPS deals with fuel differently, buying bulk and letting carriers use it. "When we bid a contract, we bid on how many gallons of fuel that service is going to take," he says. "That's the first thing we had to change when going to natural gas. There is a huge investment in natural gas vehicles, and if you can't enjoy some of the benefits of lower costs it just doesn't happen."
Sheehy Mail Contractors first met with the Post Master General in September 2012 to figure out how to work with USPS to use natural gas. In January 2013, an agreement was struck in terms of how carriers could share in the fuel savings in order to invest in natural gas equipment, creating a win-win situation. This year, Sheehy is working to identify more carriers to invest in natural gas vehicles to improve efficiency and savings.
"When truckers and shippers work together, you can create some neat things, and it can happen rapidly," says Sheehy. "The technology is there, the infrastructure is right behind it, and the next step is for all of us to understand where we are and not get greedy."
Seaboard Foods' fleet includes 65 Class 8 CNG trucks and will soon take delivery of 38 more units. In addition it has more than 50 CNG bi-fuel light-duty pickup trucks. The company owns and operates two fast-fill CNG stations and is now working with Love's Travel Stops to create a new lane along the I-40 corridor with fast-fill CNG stations in New Mexico and Arizona.
"The infrastructure is growing, maybe not fast enough for us, but we are pushing it along," says Joe Goodwin, Seaboard Foods' director of transportation.