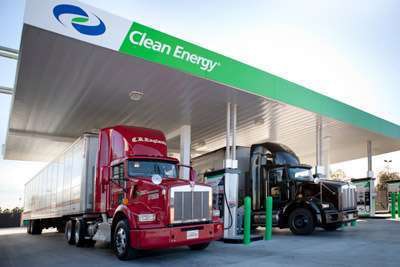 With diesel prices at three-year lows and expected to remain well below $4 in 2015, much of the shine is off the pennies per gallon that can be saved by using alternative fuels.
So with the natural gas powered vehicle market seemingly stalled, ACT Research has released the results of its updated research on U.S. Natural Gas transportation fuel trends in the heavy duty truck market.
The report entitled, "NG Reality Check: Moving from Infancy to Adolescence," is designed to be a comprehensive, forward-looking long-term analysis on the use of natural gas as fuel in U.S. heavy Class 8 trucks.
ACT published its first comprehensive NG study in 2012. That report was more bullish, ACT notes, reflecting "the enthusiasm of the moment" that included planned market and product development that has been slow to materialize with a narrowing fuel price spread and improving diesel engine fuel economy gains.
"The previous long-term penetration over-statement does not mean NG has not grown. It has and will continue to grow, but at a slower rate the next few years," says Ken Vieth, ACT Research's senior partner and general manager. "NG Class 8 truck/transit bus penetration was 3 percent in 2013 and should reach 4 percent in 2014, or about 11,000 units."
Looking at the most likely adoption curve, NG heavy Class 8 penetration is expected to total 23 percent of the units sold in 2025. If the total new U.S. Class 8 truck/transit bus market is 200,000 units that year, then the NG market will be a strong 46,000 units, ACT reports.
"That's a large quantity that will be shared by those with an understanding of tomorrow's truck transportation needs and plans to get there," Vieth says. "Depending upon the emissions and greenhouse gas needs of the nation and the regulations put in place in coming years to achieve those needs, NG penetration could even be higher since NG is equally available and is a cleaner, cheaper (CPM) fuel than diesel."
The report provides forecasts, insights and supporting analysis on major trends already taking place such as:
• NG engine technologies (spark, HPDI, dual fuel)
• NG fuel preference (LNG, CNG, DME)
• Infrastructure design (fuel only to full service and fuels)
• Emerging infrastructure investors and early NG adopters
• ROI adjustments as fuel cost spreads and up-charges change
• MPG versus CPM (cost per mile)
• Shipper-trucker relationships from contracts to diesel fuel surcharges to going green
Anyone interested in learning more about the project may visit the ACT website.