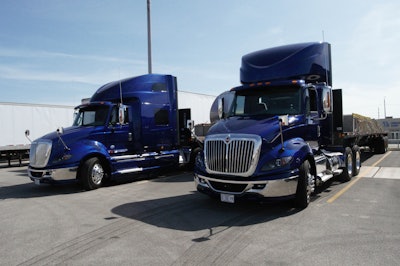 As International's turnaround project continues, the truck maker recently announced some great news – its largest single LoneStar sale ever. The impressive deal sees 500 of the company's tractors going to Celadon, where they'll be used as aspirational trucks to recruit new drivers and retain experienced ones.
The day before the deal was announced, I was west of Chicago at International's Melrose Park Test Center and Engine Plant for a briefing with Steve Gilligan, vice president of product and vocational marketing, and a chance to do a side-by-side test drive of two ProStar tractors with different drivetrains.
Gilligan noted that although International's priority at the moment is full selective catalytic reduction integration throughout its product line, additional product refinement also is taking place. As evidence, he pointed out the advanced aerodynamic refinements on my ProStar test trucks, as well as the transmissions I was there to evaluate.
Gilligan said International's take-rate on automated transmissions is nearly 30 percent, with some OEMs approaching 50 percent – another strong indication that the days of manual gearboxes may be numbered. Moreover, he noted that a revived relationship with Cummins has allowed International to take a leadership role with the Cummins-Eaton SmartAdvantage integrated drivetrain. Gilligan hinted International was working with Eaton to develop a new integrated drivetrain with its proprietary MaxxForce 13-liter engine.
"The improvement in average fuel economy is undeniable," Gilligan told me. "Because as good as automated manual transmissions are by themselves in terms of driver comfort and safety, we know they're also a key enabler for reaching higher levels of average fuel efficiency in heavy-duty trucks. I think we're rapidly approaching the point where 8 or even 9 mpg will become the new industry baseline for fuel economy, and integrated drivetrains are absolutely vital for attaining and maintaining those numbers. International intends to achieve this integration through close partnerships with our component supplier partners."
In addition to the Cummins-Eaton drivetrain, I also would be evaluating Allison's new TC10, a fully automatic transmission featuring a torque converter instead of an electronically actuated clutch. Gilligan said Allison designed the TC10 to compete with the new wave of AMTs.
First up was the SmartAdvantage-equipped ProStar. Unfortunately, the heavily congested roads around Chicago gave me little opportunity to reach and maintain typical long-haul cruise speeds. But it was clear, even in stop-and-go traffic, that the Cummins ISX15 and the Eaton AMT were working together perfectly to deliver smooth, precise shifts and were more than capable of getting a heavily loaded tractor-trailer up to speed in a timely manner. Drivers certainly will enjoy the confidence of knowing the engine will perform exactly the way it would with a manual transmission – and hitting perfect shifts every time to boot.
Likewise, my ProStar daycab with MaxxForce 13 power and the Allison TC10 proved equally as capable during my drive. I was expecting the Allison to shift smoother than an AMT since that is a prime benefit of a torque converter, and the Allison delivered on that front. But – and this is a credit to AMT design today – the difference is not huge, and I doubt most drivers would see a noticeable difference at all.
The Allison certainly shined in heavy stop-and-go traffic. It delivered plenty of low-end torque in such a way that made me forget I'd driven the same route with a 15-liter under the hood just a little earlier.