When it comes to hazmat, the Department of Defense is sometimes a careless, carrier-unfriendly shipper – and instances of denying truck drivers access to secure parking could be catastrophic, a recent oversight report concludes. The report also cautions that CSA has shortcomings as a tool for DOD's carrier selection process.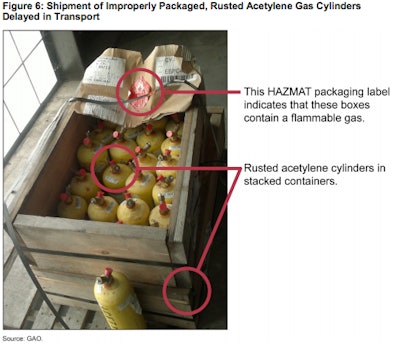 In the report published this month, "DOD Needs to Take Actions to Improve the Transportation of Hazardous Material Shipments," the U.S. Government Accountability Office finds that DOD "has experienced some challenges" in implementing hazmat regulations which can "adversely affect the safe, timely, and cost-effective transportation."
Most notably, with regard to trucking, at least 44 times during fiscal years 2012 and 2013, DOD installations did not provide commercial carriers with access to secure hold areas for arms, ammunition, and explosives shipments or assist them in finding alternatives, as required by DOD regulations.
While noting that there were 70,891 of these types of shipments, "not providing secure hold for even a small percentage … poses a risk to public safety and national security," the report says.
Specific incidents include:
A commercial carrier transporting a shipment of ammunition, explosives and fireworks arrived at its final destination point after normal working hours and was denied access to the installation. DOD personnel at the final destination point directed the carrier to another DOD installation for secure hold, but no one at that installation answered the carrier's calls requesting secure hold for the night. Despite the carrier's efforts to inform DOD personnel of the security requirements, the carrier was denied secure hold for the shipment and spent the night in his truck with the shipment in an empty parking lot near the highway.
A DOD installation denied a commercial carrier access to a secure hold area for a shipment of thousands of pounds of aircraft flares and directed the carrier to park at a nearby major retail store parking lot.
DOD personnel at a secure hold installation instructed a commercial carrier of a small-arms and parts shipment to arrive before the installation closed because they would not accept after-hours shipments. Furthermore, DOD personnel explained that the installation was located in an unsafe neighborhood and advised the carrier to park in a safe public parking lot away from the installation if arriving after hours. Observing that the shipment would arrive after hours, the carrier decided to spend the night in his truck with the shipment parked at a public truck stop near the interstate highway.
The GAO also found that "a substantial number" of hazmat shipments were not documented and packaged properly.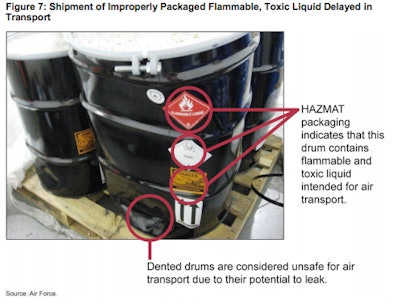 With regard to Compliance, Safety, Accountability and carrier selection, GAO revisits its previous analysis of the program's shortcomings and recommends the Defense Department review its procedures as well.
The report points out that DOD may be determining which carriers should be eligible to transport its most-sensitive shipments "using a safety score that lacks sufficient information to reliably assess safety performance for many carriers."
That score, from the Federal Motor Carrier Safety Administration's Safety Measurement System, determines which carriers are eligible to participate in DOD's Transportation Protective Services program.
However, in February GAO found that scores from many carriers lack sufficient safety performance data to reliably compare them with other commercial carriers' scores.
The report notes that DOT agreed to consider GAO's recommendations regarding the carrier scoring sysem, but expressed "significant and substantive disagreements" with some aspects of the analysis.
Still, CSA changes could affect how DOD uses the information to evaluate carriers' safety performance, the report concludes.