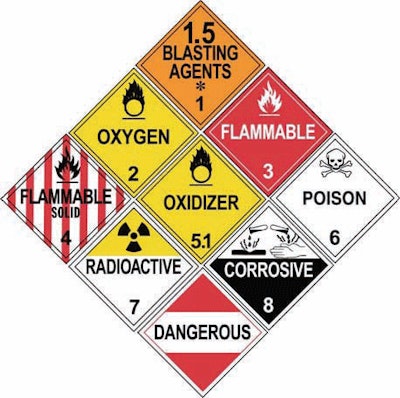 The Federal Motor Carrier Safety Administration announced last week it will begin using carrier percentile rankings in the Compliance, Safety, Accountability program's Safety Measurement System to monitor hazmat haulers and for renewal of federally issued hazmat permits.
FMCSA will review permit holder's SMS scores monthly to determine if the carrier has met or exceeded intervention thresholds for the two preceding consecutive months. If the agency finds that a carrier has met or exceeded these thresholds, the carrier will be identified for investigation with hazardous material compliance emphasis.
The change stems from a Congressionally required March 2014 report issued by the DOT, which included six recommendations regarding Hazardous Materials Safety Permits.
2012's MAP-21 highway funding act required the DOT to submit a study report to Congress on the implementation of the HMSP program.
The two recommendations implemented from the report are to use SMS scores in the hazmat permit review process and, for carriers who have insufficient data to produce proper SMS scores, perform comprehensive investigations of hazmat permit holders.
With the implementation of these requirements, hazmat permit holders will no longer be required to have crash and out-of-service rates that are below the 30 percent enforcement threshold at the time of the holder's two-year renewal. Instead, FMCSA will monitor the HMSP holders using SMS analysis as a basis for a compliance review referral or proposed revocation or suspension.
"Using the monthly data provides a more powerful tool for identifying the HMSP carriers that have overall compliance problems, warranting a comprehensive investigation or issues in one particular area of safety performance," FMCSA's notice states. "The SMS approach provides a strengthened, continuous monitoring process for HMSP holders, which merit heightened oversight and monitoring due to the dangerous nature of the materials they transport."
The non-partisan Government Accountability Office issued a report last year questioning the use of CSA scores in the DOT's judgment of DOD hazmat haulers, pointing to the program's long list of shortcomings as reason.