In a joint letter from the California Alliance for Jobs and Transportation California, construction and labor leaders called on the governor and the legislature to spend existing truck weight fees on transportation projects.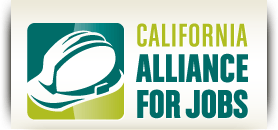 Weight fees paid by commercial vehicles to mitigate additional roadway damage caused by heavy trucks have been directed to the state's General Fund since 2011. The diversion of these fees, which raise nearly a billion dollars a year, was part of a deal approved by the legislature that eliminated the state sales tax on gasoline and replaced the lost revenue with an equivalent increase in the gas tax. The money is currently being used to pay the debt service on general obligation transportation bonds to relieve pressure on the state's general fund.
"These bonds were originally sold to voters as obligations of the General Fund," stated Jim Earp, Executive Director of California Alliance for Jobs. "Now that the state's budget picture is improving, those funds should be returned to transportation accounts for road and highway work."
[youtube SbkCObzPv4w nolink]
The letter expresses concern about the low priority being placed on needed transportation system repairs and points out that for the maintenance of local streets, roads and state highways, "the single most important action the Legislature could take this year is to redirect truck weight fees back to transportation repair and rehabilitation."
Earp said doing so was important for two key reasons.
First, it would help slow down the continuing decline of the state's road network. Second, it "will keep a core of California-based contractors and thousands of skilled construction workers on the job."
Without a more-sustainable funding situation, he said many contractors specializing in highway projects may be forced out of business.
Redirecting truck weight fees back to transportation also resonates well with voters.
"Our voter research shows that the public understands the need to invest in our existing transportation infrastructure," stated Will Kempton, Executive Director of Transportation California, "and the public overwhelmingly wants to see taxes and fees used for their intended purposes."
The letter concludes that there is no justification for permanently diverting money that should be going to repair and rehabilitate California's roads.