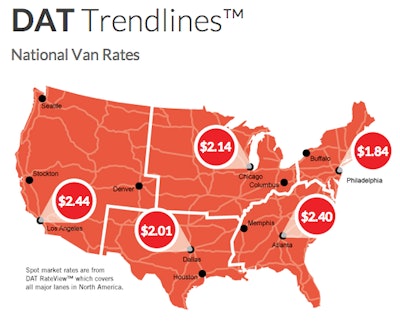 Freight rates continue to climb, with van prices approaching record seasonal levels, according to multiple reports out this week.
The Cass Truckload Linehaul Index put costs in May at 5.8 percent higher than a year ago, an increase that is consistent with those of the previous two months (5.7 percent in April and 6 percent in March).
With demand improving and capacity exiting the marketplace at a faster pace, the 2014 bid season (~70 percent of all contracts are negotiated in the first 4 months) has resulted in higher truckload costs for the shipper, the report notes.
Industry analyst firm Avondale Partners expects truckload pricing to increase 4 to 6 percent in 2014.
From April to May, pricing fell 2.2 percent (slightly less than the historical average), after displaying above-normal sequential increases in five of the last six months.
Total intermodal costs rose 2.6 percent year over year in May, after seeing increases of 1.4 percent in April and 1.8 percent in March, according to the Cass Intermodal Price Index. Sequentially, intermodal costs fell 2.7 percent, in line with seasonal trends.
Even more recently, the national average spot van rate has neared a record high reported in March when severe weather was causing havoc with capacity, demand, and pricing. That's from the latest DAT Trendlines report. And this time the higher rate seems to be driven by business: higher manufacturing output, construction, agricultural products, etc., the analysis notes.
But capacity pressure did ease during the week ending June 14, according to DAT Solutions, which operates the DAT network of load boards.
The national average van rate added 2 cents (1.1 percent) to $2.07 per mile (including fuel surcharge). The number of posted van loads fell 0.7 percent while van capacity increased 14 percent compared to the previous week. The van load-to-truck ratio was down 13 percent to 4.2.
The national average reefer rate rose 3 cents to $2.41 per mile on the strength of Western markets including Los Angeles ($3.10 per mile, up 7 cents) and Fresno ($2.46 per mile, a 13-cent jump). Average outbound rates from Florida continued to cool, including Lakeland dropping 30 cents to $2.26 per mile.
The number of posted refrigerated loads fell 2.8 percent against a 7.9 percent increase in posted capacity, sending the reefer load-to-truck ratio down 10 percent to 11.1.
The national average rate for flatbeds fell 2 cents (0.8 percent) to $2.42 per mile last week. The number of posted flatbed loads slipped 0.3 percent compared to the previous week and capacity added 4.7 percent, producing a 4.8 percent drop in the national load-to-truck ratio. It remains robust at 48.5 posted loads per truck.
Overall, the average load-to-truck ratio fell 13 percent to 10.1, meaning there were 10.1 van, refrigerated, and flatbed loads posted for every truck available on DAT load boards.