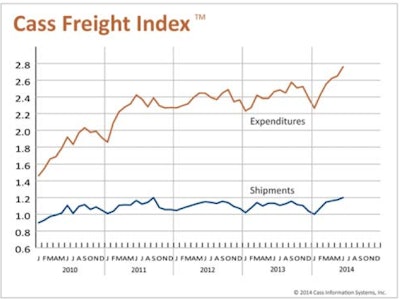 The freight transportation sector continued to strengthen in June, with both shipment volumes and expenditures rising once again on the latest Cass Freight Index. Both indexes have increased every month since January.
And even though some measures of the overall economy indicate weakness, the freight sector has gained momentum throughout 2014, notes Rosalyn Wilson, a supply chain expert and senior business analyst with Parsons.
June shipment volumes increased 2.4 percent to the highest level since November 2007, just before the recession. Volumes were 6 percent higher than a year ago and are up 15.8 percent since the beginning of 2014.
Construction and manufacturing activities – both drivers of demand for transportation services – have been rising for several months, Wilson points out. And while the Institute for Supply Management's PMI slipped slightly for the month, there was strong growth in the manufacturing of autos and construction equipment, indicating that demand for transportation should remain strong for the next several months.
In tonnage terms, truck volume has been rising consistently in 2014. Railroad carload and intermodal traffic also have posted solid gains.
"Despite record levels of new equipment orders, a lack of drivers is restricting growth in truck capacity," she says.
The freight expenditures index rose 4.2 percent in June to 2.76, a record high. Freight spending was 12.1 percent higher than a year ago and is up 15.6 percent since the beginning of 2014.
For the truckload sector, the Cass Truckload Linehaul Index also shows that rates have been higher in each month of this year than last year. Rail rates have been on the rise since the beginning of the year, also pushing up transportation costs.
"The combination of tight capacity and higher shipment volumes will push expenditures up faster in the remainder of 2014," Wilson says.
As for the overall economy, the Commerce Department's third revision of GDP for the first quarter was "dismal," but transportation demand has remained solid – and the trend will hold, Wilson explains.
"There is not necessarily a direct correlation between GDP and transportation," she says. "For instance, declining inventory levels and increasing imports are positives for the transportation sector but negatives for GDP. Despite some talk that the slowing and then contracting economy could signal another recession, the foundation and building blocks for a growing economy are stabilizing and growing."
Sales of both new and existing homes are increasing, industrial and government construction have been up for the last several months, and manufacturing has been largely growing for close to a year. Retail sales have yet to show signs of significant growth, but they are not shrinking either, and consumer confidence levels have surpassed pre-recession levels.
"The current growth sectors in the economy depend on transportation services, so the outlook remains good for transportation," Wilson concludes.
Cass Information Systems processes more than $22 billion in annual freight payables on behalf of its clients. The Cass Freight Index is based upon the domestic freight shipments of hundreds of Cass clients representing a broad spectrum of industries.