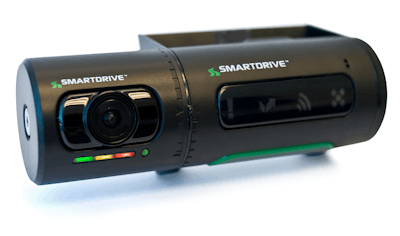 SmartDrive Systems announced a new feature of its safety program called Custom Coaching and Scoring. The addition to its video-based safety program lets fleets easily tune the program to their individual risk priorities and safety policies, the company says.
SmartDrive has developed a best practice program designed by industry segment, specific operating environment and vehicle type. With the help of SmartDrive safety experts, the program can then be customized to fleets' unique business requirements.
The company says the expansion builds on its open platform that captures the broadest spectrum of risk that matters most to individual businesses. SmartDrive's platform captures before-and-after video when a safety incident occurs, after which SmartDrive experts review footage, note unsafe driving and prioritize for coaching based on the calculated risk score. With Custom Coaching and Scoring, the score for specific risk areas can be weighted higher or lower based on a customer's safety policies and procedures.
In addition, the coaching priority can be set based on a variety of their own policy criteria—such as zero tolerance, watch-list, or their own custom priority. This provides the flexibility to centrally manage the program, applying company-specific business rules in a consistent and standardized process throughout the organization while helping managers understand what areas need retraining relative to their policy.
"As a longtime customer of SmartDrive, our business has changed significantly since we first started with the program and our safety needs today aren't what they were even two years ago," said Randy Sheltra, vice president of safety at Loomis U.S. "We launched a new coaching program and configured SmartDrive to support the changing environment — helping us operationalize our evolving policy while quickly addressing our high-priority focus areas. With more 3,000 vehicles in our fleet, these new enhancements enable us to manage the program effectively across our distributed organization."
Customers implementing the video-based safety program can begin with SmartDrive's best practice configuration and adjust over time, or customize at the start. Dedicated Customer Success Managers (CSM), who are safety experts in specific industry verticals, partner with customers to determine appropriate adjustments based on their business and safety goals.
"Fleets today require solutions that can keep pace with their business. To remain competitive, they can't afford to be locked into a 'one-size-fits-all' approach," said Steve Mitgang, CEO of SmartDrive. "Whether it is market expansion into new verticals or geographic areas, new regulatory requirements or the ongoing dynamics of hiring and managing drivers, fleets operate in an environment of constant change. This new release speeds adoption and accelerates results by allowing customers to align the program to their existing polices while taking advantage of our proven best practices."