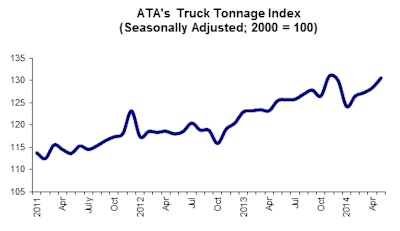 Tonnage as measured by the American Trucking Associations' For-Hire Truck Tonnage Index rose 1 percent in May from April, ATA said June 17, following a 0.9 percent increase in April.
The index measured 129.7 in May, down about 1 percent from November 2013's all-time high.
Compared with May of last year, tonnage was up 3.4 percent — the second largest year-over-year increase in 2014.
Year to date, tonnage is up 4.5 percent, slightly off from last year's 6.3 percent YTD increase in May, but ATA Chief Economist Bob Costello says the gains this year are "more broad-based."
"It isn't just heavy freight for sectors like tank truck and flatbed from energy and housing that are improving this year," he said. "Now, generic dry van trailer freight is doing better as well, which wasn't the case in 2013. This is a good sign for the economy."
ATA gathers its monthly tonnage report from membership surveys.