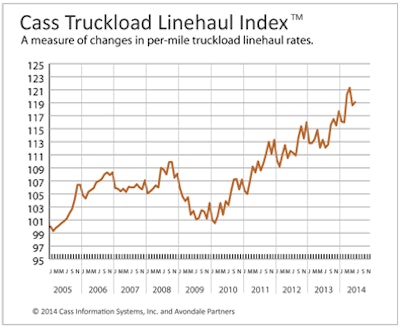 Truckload linehaul rates paid by North American shippers in June were 5.2 percent higher than in June of last year, according to the Cass Truckload Linehaul Index, a measure of market fluctuations in per-mile truckload linehaul rates. (Slide 1)
The June index ticked upward 0.4 percent from May to 119.1, but still lags April's all-time high of 121.3. The index uses January 2005 as its base month, with an initial reading of 100. (Slide 2)
"As demand continues to increase while capacity exits the marketplace, this year's procurement events and contract negotiations have not, in general, been ending favorably for shippers," says the report, published by Cass Information Systems along with the securities analysts at Avondale Partners. "For the remainder of this year, expect stronger industrial production, increased consumer spending, and the continued recovery in housing to continue to squeeze capacity."
The Cass Intermodal Price Index, meanwhile, slipped 4.9 percent in June from the previous month to 126.6, the lowest reading since November 2013. The index, however, is still 3.9 percent higher than the year before. (Slide 3)
"Although intermodal costs seem to have peaked for this year and have been falling over the last couple of months, they remain considerably high compared to the last several years," the Cass report says. "On average for 2014, intermodal costs have been up 2.1 percent year-over-year, with the difference greater in the last three months, partially due to rising diesel costs. For the most part though, it's supply and demand."
The Association of American Railroads has reported that U.S. intermodal volumes are up significantly over last year: 9 percent in April, 8 percent in May, and 7 percent in June.
And speaking of shippers and rate negotiations, 3PL and supply chain technology company Transplace recently hosted a webinar on truckload sourcing best practices, and breaks out a list of Top 10 Tips into three main stages: better planning, better bidding and better decision making. (Slide 4)
"Shippers are risk adverse and would rather align with core carriers to keep service high," says Cindy Bosecker, director of Engineering for Transplace.