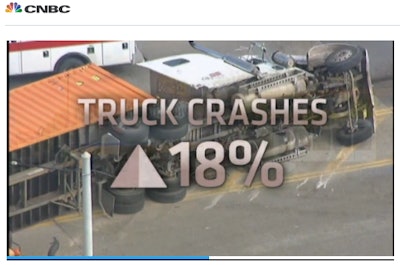 American Trucking Associations President and CEO Bill Graves has written CNBC to express "disappointment" over the depiction of the industry in a recent series of reports on trucking – and to invite the network to the upcoming truck driving championships to see "just how serious our industry's commitment to safety is."
"Collision Course," as the package is called, began airing July 30.
"The series portrayed our industry as egregiously unsafe, depicting the worst practices of some in our industry as endemic to how we do business," Graves writes. "This paints an outrageously inaccurate image of an industry that moves the vast majority of the country's goods; spends more than $7.5 billion annually on safety-related technologies and has worked to cut truck-involved crashes by 22 percent over the past decade."
The letter takes exception to the series' suggestion that truck drivers are to blame for the 4,000 truck-related deaths per year, saying "this is simply not true," and restating the point made by Dave Osiecki, ATA executive vice president and head of national advocacy, in the series: 70 percent of those accidents are not the driver's fault.
Additionally, the statistics include truck accidents other than those involving tractor-trailers moving freight on the highways, such as construction trucks and large pickups.
Of note, outgoing Federal Motor Carrier Safety Administrator Anne Ferro, in a segment defending her agency's efforts, echoes trucking's position that the uptick in truck accidents during her tenure was the result of economic growth and increased traffic. FMCSA had discounted that argument in developing and defending last year's changes to the hours-of-service rule.
The series also takes a look at some current truck safety systems, such as lane departure warning and radar-enhanced cruise control, as well as the problem of "chameleon carriers."
"Whether or not you're truly safe on the road all comes down to who's behind the wheel," concludes reporter Eamon Javers.
And ATA concludes CNBC should visit the upcoming 2014 National Truck Driving Championships, or take a ride with one of the industry's ambassadors, an America's Road Team Captain.
"I hope to see you in Pittsburgh, or at the very least, I hope that you can better educate yourselves on the issues surrounding truck and highway safety so future reports on the trucking industry will not irresponsibly portray the 7 million professionals in trucking as egregiously unsafe," Graves writes.
In a subsequent CNBC interview on second quarter earnings, YRC Worldwide CEO James Welch spends much of his airtime defending the industry's safety record.

The Owner-Operator Independent Drivers Association was quick to criticize the series, as well.
"It's a short-sighted view that undermines efforts to bring meaningful improvements to highway safety," says OOIDA spokesperson Norita Taylor. "Our members believe the stories do more harm than good to public safety, and want the motoring public to know that truck drivers log millions more accident-free miles than otherwise."
Along with efforts to better educate the general public about driving around trucks, OOIDA calls for standardized training of new truck drivers, noting that currently there are no federal training requirements, despite a long-standing congressional mandate.
For a lively discussion and driver reaction, visit this Voices page on the website of CCJ's sister publication, Overdrive.