Transportation Secretary Anthony Foxx on Wednesday convened a technically plagued virtual town hall to tout the Obama administration's politically plagued and virtually ignored long-term transportation package – this coming a day after a new poll showed that the American people really aren't concerned enough to pay the tab, and after voters in Missouri overwhelmingly proved the point at the polls.
In a webcast to push the Grow America Act, Foxx – a former mayor – emphasized again and again the importance of "local." The secretary encouraged the public "to get noisy" with Congress on the importance of local, federally backed projects.
"Those projects are going to be the ones that get the attention of Congress. That's when it becomes real," he said, speaking to some 3,400 online participants, by DOT's count. "You need to raise the level of conversation about projects in your backyard."
The good news for trucking, whose backyard is asphalt and runs from border to border, is that the administration recognizes the importance of "a very robust freight program."
"We know that by 2050 we'll have to move almost twice the amount of freight in our country. We also know we won't be able to do it with our current freight system," Foxx said. "Why? Because our freight system isn't much of a system. Our roads and rails and ports aren't always well connected and the pieces are deteriorating."
Trucking, however, won't be so pleased to hear Foxx's suggestion that federal support for rail projects should come out of the currently unsustainable Highway Trust Fund, adding rail to the formula that already takes a good-sized slice for transit systems.
The call for folks to pester Congress comes as members have abandoned the Capitol for their August break, and most will be making the rounds at home – so the timing makes some sense. On the other hand, on their way out the door Congress passed yet another stopgap measure to keep the federal dollars flowing to state and local transportation projects through May, delaying for 10 months DOT's dire predictions about having to turn off the tap.
(Despite DOT's Aug. 1 deadline for a cash infusion, the president has yet to sign the bill.)
That $11 billion extension also skirts the need for a lame duck session to address a long-term solution to the funding issue sooner rather than later, setting up another likely cycle of one extension after another.
For his part, Obama continues to push the limits of executive power. In a brief press conference Wednesday following a summit with African leaders, the president argued that "the American people don't want me just standing around twiddling my thumbs and waiting for Congress to get something done."
"Congress has the power of the purse. I would love to fund a large infrastructure proposal right now that would put millions of people to work and boost our GDP.  We know we've got roads and bridges and airports and electrical grids that need to be rebuilt," Obama said. "But without the cooperation of Congress, what I can do is speed up the permitting process, for example. I can make sure that we're working with the private sector to see if we can channel investment into much-needed projects. But ultimately, Congress has to pass a budget and authorize spending. So I don't have a green light."
But Congress, apparently, doesn't have a green light, either – not if they're interested in votes back home.
According to the latest AP-GfK poll, Americans don't particularly like any of the survey's options for fixing the Highway Trust Fund shortfall.
Indeed, the proposal getting the most support (30 percent) would strip the federal government of its tax and spend authority and turn the responsibility over to state and local governments.
An increase in federal gasoline and diesel taxes was the least popular option, supported by only 14 percent of the public and opposed by 58 percent.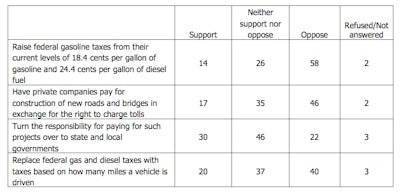 And in Missouri, the polls that really count showed that folks in the Show-Me state aren't ready to pay for transportation programs with a tax increase.
Nearly 60 percent of voters there opposed a three-quarters of a penny increase in the state sales tax, which would brought in more than $5 billion over ten years for highway and transit projects. During that time, state and local governments would have been forbidden from allowing tolls on any Missouri road.
"Missourians' rejection of a modest tax increase tells us what we already know: voters are not eager to raise taxes on themselves, even if the increase amounts to pennies per driver," said Julian Walker, spokesman for the Alliance for Toll-Free Interstates. "It is unfortunate that a broadly popular provision of the legislation to ban tolls was dragged down in the process."
A roundup of CCJ coverage of the infrastructure debate is here.