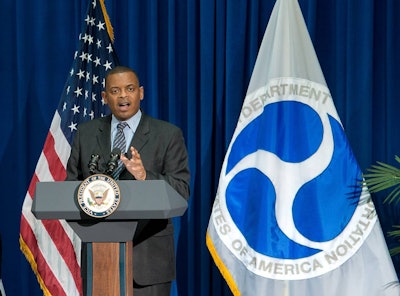 Current Transportation Secretary Anthony Foxx and 11 former DOT chiefs on Monday sent a letter to Congress saying the lawmakers' work doesn't end with the patch to the shortfall in the Highway Trust Fund that is currently under consideration.
"We are hopeful that Congress appears willing to avert the immediate crisis," the letter reads. "But we want to be clear: This bill will not 'fix' America's transportation system. For that, we need a much larger and longer-term investment. On this, all twelve of us agree."
Also signing on are Secretaries Ray LaHood, Mary Peters, Norman Mineta, Rodney Slater, Federico Peña, Samuel Skinner, Andrew Card, James Burnley, Elizabeth Dole, William Coleman and Alan Boyd.
The letter notes the group's experience includes a combined 35 years in the driver's seat at the U.S. Department of Transportation in the service of seven presidents, both Republicans and Democrats, including Lyndon Johnson, Gerald Ford, Ronald Reagan, George H.W. Bush, Bill Clinton, George W. Bush, and Barack Obama.
"Suffice it to say, we've been around the block. We probably helped pave it," the letter goes on. "So it is with some knowledge and experience that we can write: Never in our nation's history has America's transportation system been on a more unsustainable course."
The group opposes the funding "fits and starts" of the last five years, during which Congress has passed 27 short-term measures to pay for federal transportation programs rather than the traditional six-year bills.
A resulting "infrastructure deficit" is immediately costly to an American's pocketbook and a long-term threat to the nation's growth, the secretaries contend.
"This is no way to run a railroad, fill a pothole, or repair a bridge," the letter says. "… What America needs is to break this cycle of governing crisis-to-crisis."
Indeed, Congress has received quite a few letters lately on the matter.
The U.S. Chamber of Commerce has also called for more than a quick fix.
"Time is short, and the consequences of inaction are too high. Congress must have – and seize – the opportunity to address a long term revenue fix to the HTF before year end," the Chamber writes.
A coalition of conservative groups, however, wants to ensure that Congress "protects taxpayers" in any transportation legislation, and opposes a year-end lame-duck session for such significant legislation. In its letter, the group calls for no increase in federal fuel taxes or fees; for moving "non-road" program funding out of the Highway Trust Fund; for returning more control of transportation projects to the states; for reducing regulation that increases project costs and for greater transparency to reduce waste and "pet project procurements."
President Obama last week called on Foxx and Treasury Secretary Jack Lew to put together recommendations on how to increase private-sector spending on infrastructure.
He also cautioned Congress not think their work would be done by covering the transportation shortfall through next May.
"Congress shouldn't be too proud. It shouldn't pat itself on the back for kicking the can down the road a few months," Obama said. "Instead of barely paying our bills in the present, we should be planning and investing in our future."
The Highway Trust Fund is set to run out of money about the same time Congress leaves for its August recess. The extension bill is currently in the Senate's court.