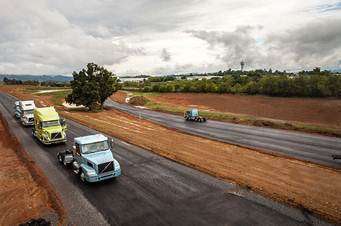 Volvo's New River Valley (NRV) assembly plant in Dublin, Virginia officially opened its 1.1-mile Customer Experience Track today during a celebration with Volvo executives, government officials and employees. The track features a paved road course and an off-highway area to better enable Volvo to showcase its extensive range of Class 8 vehicles during customer tours and special events at the plant.
"The Customer Experience Track is built to simulate real-world driving conditions and provide our visitors with the opportunity to experience first-hand the quality and performance of Volvo trucks," said Gӧran Nyberg, president of Volvo Trucks North American Sales & Marketing. "Getting behind the wheel to experience our vehicles is the ultimate way to complement a tour of our New River Valley manufacturing facility."
Designed with banked corners, the paved course enables drivers to achieve highway speeds. The off-highway area features a variety of surfaces and grades to simulate the most demanding of work environments and is located inside the paved road course.
Volvo utilized employees skilled in design, excavation and the operation of heavy machinery to build the Customer Experience Track.
"The Customer Experience Track will enable customers to have an even better experience at our facility, while also allowing us to showcase our products in a unique way," said Lars Blomberg, vice president and NRV general manager. "The employees who built the track are both dedicated and passionate about the work they do, which is evident by their commitment to quality and their desire to develop this track. I commend all of our employees for the work that they do."