A driver shortage, rising equipment and fuel prices, government regulations, and other capacity constraints are forcing fleets to find new ways to move freight with fewer trucks.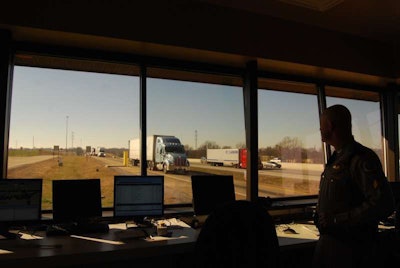 Maximizing payload is a longstanding strategy, but fleet managers often lack insight into whether or not their trucks are leaving quarries, oilfields, warehouse docks and other pickup locations with full loads. Besides leaving money on the table, under-loaded trucks could be a safety hazard.
Gemini Motor Transport, a national petroleum hauler, is in the process of installing onboard scales from Air-Weigh to acquire payload information. The 220-truck fleet transports fuel to Love's Travel Stops locations.
The fleet plans to use the technology to increase productivity by ensuring trailers are loaded to the maximum, legal amount. Safety is also a concern: full loads have less fumes and are less flammable than partial loads.
Gemini plans to integrate its Air-Weigh Load Maxx system with its telematics platform from Cadec. With this integration, fleet managers will be alerted the instant an under or over-load occurs, giving them the opportunity to contact drivers to make corrections and identify best practices.
The use of onboard load scales has become common among fleets that haul bulk or refrigerated commodities. For these types of operations, drivers and fleets are partially responsible for ensuring loads are legal and optimized before leaving pickup locations.
For independent contractors and small fleets, a simple electronic or mechanical load scale may fit the need. Larger fleets have more need to monitor loading or unloading activities from the office and make real-time decisions. For instance, knowing a truck is under-loaded could create an opportunity to add another lighter load from a separate customer, thereby increasing profit and customer satisfaction.
Instant information
Most onboard scales are designed to be accurate to within 300 pounds of the actual on-ground weight of a combination vehicle, at least those that use sensors mounted on the different axle groups to monitor air pressure and temperature of the air suspension system. The load weights are not accurate enough to bill customers by the pound but they can make carriers more efficient.
When picking up a live load or staged load, drivers know immediately if they are over or under loaded. They can also monitor the gross vehicle weight and the weight of each axle group as loading takes place. Drivers do not have to waste time and fuel to travel to precise, in-ground scales just to get a weight check. It can also eliminate the risk of weight violations over the road.
Several vendors also make electronic scales that can interface with telematics systems to help fleets make real-time decisions.
Air-Weigh's LoadMaxx onboard electronic scale displays the tractor, trailer and gross vehicle weight on a dash-mounted gauge. The system has a communications panel that can transmit weight information to the vehicle's J1939 databus to be picked up by onboard computers and sent to the office.
Through this integration, management can be alerted to exceptions and keep a historical log of weights alongside vehicle odometer, time and position data.
TruckWeight offers its own telemetry option for its onboard scale. Carriers that use the FleetLink option typically sign up for a data plan, for as little as $2.50 per truck per month, but most do not use FleetLink to monitor weights during loading activities, says Peter Panagapko, president of the Halifax, NS, Canada-based company.
Fleets are more interested in using the telematics option to quickly diagnose and troubleshoot problems with the vehicle's suspension system or onboard scale due to a bad sensor or calibration to ensure nothing stands in the way of accurate weight readings for their entire fleet, he says.
TruckWeight's onboard scales have standard RS232 and Bluetooth connections that can be used for integrating weights, individual sensor readings, tractor and trailer numbers, calibration data, etc., into fleets' existing telematics platforms.
Load weights may not useful information for all fleets, but for those looking to increase the productivity, safety and efficiency of loading operations, it could be a wise investment.
In case you missed it: CLICK here to see a product roundup of the latest onboard scales